Australian bikers held over Melbourne shootings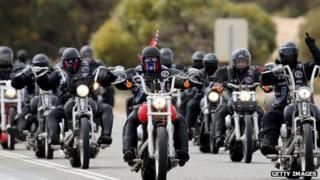 Eight members of rival Australian motorbike gangs have been charged in Melbourne over a spate of shootings.
The charges followed raids across the city on Tuesday night during which guns, explosives and cash were seized, local media reported.
Nearly 200 police officers were involved in the raids.
They came after a Hells Angels clubhouse was sprayed with bullets allegedly fired by members of the rival Comanchero biker group.
Both groups will face separate court hearings following a number of drive-by shootings, The Australian newspaper reported.
Police say that the attack on the clubhouse was in retaliation for an earlier Hells Angels attack on two businesses owned by a Comanchero member.
High-powered military weapons including AK-47s and M-1 carbines were used in both shootings, police say.
Investigators say the use of such military-style assault weapons - and attempted bombings - are fuelling a conflict over drugs between rival motorcycle gangs.
In the north-eastern state of Queensland, the world's toughest anti-biker laws are being introduced.
The BBC's Phil Mercer in Australia says that the Queensland law bans bikers from gathering in groups and offers rewards for information of up to US$470,000 (£290,000).
Lawyers say the measures are a "hysterical over-reaction".
Last year police warned that feuds between motorcycle gangs - including a series of shootings in Sydney - were a step away from becoming an all-out war.
Police said incidents of violence had taken place in South Australia, Western Australia and Queensland.
It is estimated there are 35 "outlaw" motorcycle groups in Australia with 3,500 "patched" or official members. Since the 1980s there have been about 100 biker killings across the country and 1,000 shootings.
The epicentre of much of the recent violence is Sydney, where there have been numerous drive-by shootings. Homes have been sprayed with gunshots while children have slept inside.