Four Nato soldiers killed in Afghanistan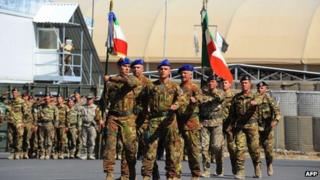 Four soldiers serving with the Nato-led international force in Afghanistan have been killed in the south of the country.
Nato said they were killed by enemy combatants while taking part in an operation alongside Afghan forces.
It did not give the nationalities of those who died, but a military official told AP news agency they were Americans.
They were hit by a roadside bomb, the official said.
No further details of the attack were given.
The Taliban are reported to have become more active in the south as international forces scale back their operations in preparation for withdrawal by the end of 2014.
Nato troops, which lead the International Security and Assistance Force (Isaf), are transferring responsibility for security to Afghan troops as the pullout draws near.