Indie films stake Philippine cinema claim
By Amee Enriquez
BBC News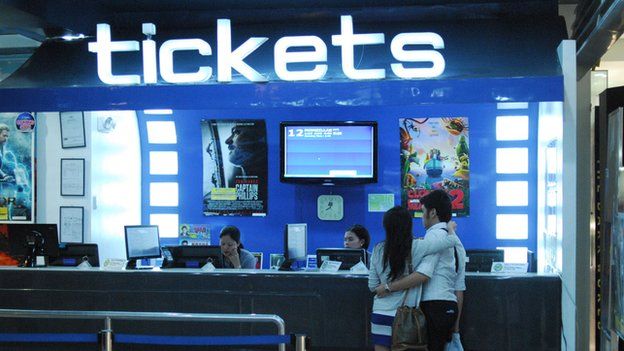 In the Philippines, Hollywood is king at the box office. Seven of the top 10 movies in 2012 - including The Avengers and The Amazing Spiderman - were Hollywood flicks, says Box Office Mojo, a website which tracks industry revenue.
The other three movies, which all had romance as their main theme, were local productions from major film studios.
But a shift is starting to take place in Philippine cinema as independent films made without studio backing begin to stake more of a claim.
The South East Asian nation has one of the oldest film industries in Asia, dating back to 1897. Watching movies is a popular past time and the Film Development Council of the Philippines (FDCP) expects movie screens to increase from about 700 at present to 1,000 in 2015.
Studio-backed productions usually favour a tried-and-tested formula - big-name stars, romance, a dose of comedy and a popular song used as the movie title.
But now a host of new film-makers are trying to change that, with indie film production on the rise. Of the 256 local films released in 2012, 216 were indie - many "helmed by the younger generation", the FDCP said.
"I wanted to make a film that I, myself, wanted to watch," Marie Jamora, 34, said of her first feature film, Ang Nawawala (What Isn't There).
She funded her film - the coming of age of a middle-class boy who stopped speaking after a family tragedy - from a Cinemalaya film festival investment of 500,000 pesos ($11,500, £71,000), funds raised online and donations from family, friends and strangers.
"The reception has been great," Ms Jamora said, adding she had met people who watched the film over and over, including "a kid who watched seven times in maybe a month".
The film, which sold out during its debut at the annual Cinemalaya in 2012, continues to be shown locally and at international film screenings.
As well as receiving critical acclaim, the film also managed to show a small profit, debunking the notion that indies typically suffer losses.
Like Ms Jamora, Pepe Diokno funded his film Engkwentro (Clash) - about two teenage boys being hunted by a vigilante group - with an investment from Cinemalaya and donations from family and friends.
Only 21 at the time, he said no major studio would have backed his project because of its controversial theme.
His work, however, drew mixed reactions from local audiences when it was released in 2009.
While his film enjoyed a limited commercial run, it did not make money. But it went on to win two major prizes at the Venice International Film Festival, and the prize money was more than enough to cover the production cost of one million pesos, he said.
Now Mr Diokno is working on his second indie, Above the Clouds, a co-production with Philippine investors and funding from the French government, scheduled for next year.
Jessica Zafra, who has been writing about films for the past two decades, says that lower filmmaking costs, better funding available outside the studio system and the rise of independent film festivals have helped the indies.
The development of cheaper digital technology has also helped movie innovators.
"The great thing about the current indie boom is that excellent work is being done by filmmakers we've never heard of. It's no longer the same group of people," Ms Zafra says.
"The Best Picture winners at Cinemalaya and CineFilipino [film festivals] were directed by 21-year-olds."
But even veteran filmmakers are experimenting with indie projects, says Phil Dy, who has been a film critic since 2007.
"Apparently, these old guys, they still have a lot to say," he said. Now more than ever, Mr Dy adds, filmmakers have more freedom. "They really are just going for it. They are just telling the stories they want to tell," he said.
Challenges remain, however. Those interviewed agreed it was still an uphill climb for indie films to become box office hits, although there have been exceptional cases.
Indies normally do not have funds for marketing beyond the film festivals and there is also the issue of engaging audiences.
But Mr Diokno said a lot had changed since he made his first film. "What excites me the most is that Filipino films are starting to be appreciated by Filipinos themselves," he said.
Studios were more willing now to pick up indie films, he added.
"It fills both gaps. The indies provide fresh content which the studios are lacking in, and the studios provide advertising and distribution machinery, which the indies don't have. And that's a good thing," he said.
Ms Jamora, who is now working on her second feature, says she has been getting calls from studios interested in her work.
"There's a new market of movie-watchers who are clamouring for a film that is not necessarily about politics or not about society per se," she said.
And the future for Philippine cinema, especially indie films, indeed looks promising.
"I really think that one of the reasons why Philippine cinema is so rich and active right now is that we have a very big community of people who watch and discuss and debate and criticise movies," Mr Diokno says.
Related Internet Links
The BBC is not responsible for the content of external sites.