Why does Singapore top so many tables?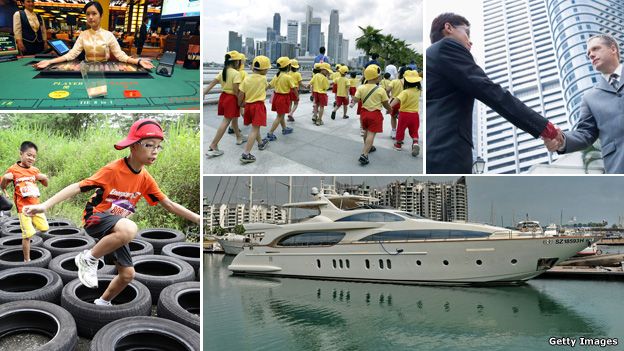 Singapore is a small nation with few of its own natural resources. Yet in the past 50 years it has transformed itself into one of the world's economic powerhouses. Here, Tenna Schoer, a Danish journalist based in Singapore, counts some of the measures where the country comes top of the class.
Take a ride on the subway in Singapore and you'll quickly notice that it is only the tourists firmly holding on to their bags. The locals are very relaxed about their belongings and show no hint of fear that somebody might snatch their smartphone. Unsurprising perhaps when you consider that Singapore has one the lowest crime rates in the world.
Crime has fallen in each of the past three years. Last year had the lowest recorded crime rate in more than two decades - there were 80 days in which not a single robbery or "snatch theft" was recorded.
Not only do you not need to worry about your belongings, your life isn't in very much danger either.
According to UN data, Singapore has the second lowest murder rate in the world (Data excludes tiny Palau and Monaco.) Only 16 people were murdered in 2011 in a country with a population of 5.1 million. Compare that to similarly sized Finland which had 116 murders and Slovakia with 96 murders in the same year.
You don't have to look that hard to discover why this might be, though. The little city state is well known for its harsh punishments for crime, even for low-level offences. Recently, a security guard was sentenced to three months in jail and three strokes of the cane for spray-painting "democracy" on a war memorial.
The police are also putting in place a network of cameras that will eventually cover all public housing blocks and car parks. In Singapore there are seemingly few concerns about "big brother is watching" when it comes to fighting crime.
2. The healthiest people in the world
When the sun is up, so are Singaporeans, doing their morning exercise. Take an early stroll in the beautiful Botanical Gardens and you'll find young and old, men and women jogging around the pond or doing tai chi.
Maybe that's one of the reasons why Singaporeans are ranked as the healthiest people in the world. Based on health-related indicators from the United Nations, World Bank and the World Health Organization for 145 countries with at least one million people, one survey placed Singapore in an overall first place with a health grade of 89.45%.
However, like most developed countries Singapore is also seeing an increase in obesity. So, in order to shape a healthier workforce, the country's Health Promotion Board recently announced the "1 million KG challenge".
This campaign is trying to get Singaporeans to collectively lose one million kilograms within the next three years through more physical activity and healthier eating behaviours.
3. The easiest place to do business
Roughly, half of those living in Singapore are here on a temporary basis, working for the many foreign companies that have a regional office in Singapore.
These businesses didn't just choose the city state because of its convenient location close to the rest of Asia and the Pacific.
Last year, Singapore was named by the World Bank for the seventh consecutive year as the best country to do business in. The bank highlighted Singapore's standards for trading across borders, dealing with construction permits and protecting investors.
4. The largest manufacturer of jack-up oil rigs
Singapore doesn't have a drop of oil to its name but it dominates the oil industry in one crucial sector: it is the world's biggest maker of jack-up rigs, the platforms used for off-shore oil exploration and drilling.
Since the 13th Century, the country has benefited from its strategic location at the confluence of major shipping lanes through the Strait of Malacca. Today, it remains a magnet for the world's shipping industry.
Until recently, when it was overtaken by Shanghai, Singapore was the largest port in the world.
Out of its shipping heritage grew two giants of the oil industry, the local conglomerates Keppel and SembCorp, which have been transformed from humble ship repair centres to global leaders, helping Singapore command 70% of the world market.
The Singaporean marine and offshore industry employs some to 75,000 workers and had a total output of 12.9bn Singapore dollars (US10.3bn, £6.42bn) in 2011, one of the fastest growing sectors in the country's economy.
5. One of the least corrupt countries in the world
Situated in a region where corruption is sometimes a part of life, it's notable that Singapore scores as well as it does in the international rankings for corruption, currently number five on the list of least corrupt countries in the world.
Most Singaporeans praise the Republic's first and long-serving prime minister, Lee Kuan Yew, for building an environment almost free of corruption. But several years before Mr Lee took office, Singapore decided to fight corruption by establishing the Corrupt Practices Investigation Bureau in 1952 in order to attract foreign businesses to invest in their land.
Today, when it comes to any kind of corruption the country doesn't distinguish between white or blue collar crime. It tries all cases according to Singapore's stringent penal code, with long-term jail terms and large fines up to 100,000 Singapore dollars (£50,000).
Singapore also keeps the salaries of politicians and civil servants high in order to repress economic incentive to engage in corrupt activity.
6. Where millionaires are minted in the shortest time
Take a walk in almost any residential car park in Singapore and you'll find a handful of luxury cars such as high-end Audis, BMWs and Mercedes, a couple of Jaguars, and at least one Ferrari or Maserati.
This luxury doesn't come cheap in the first place, never mind after adding a car sales tax rate of 150% plus the 84,000 Singapore dollars ($42,000) it costs to obtain the certificate to own the car. (Not to mention the 90kph/60mph speed limit in Singapore.)
But wealthy Singaporeans don't mind spending several hundred thousand dollars on a luxury car. Why? Because they can.
According to a recent wealth report from Barclays Bank, over half of Singapore's wealthy people have taken less than 10 years to accumulate the majority of their wealth, the quickest rate across the globe.
Not only does money grow fast, the concentration of millionaires is also among the highest in the world. With 8.8% of the population with a private wealth of at least one million US dollars, Singapore comes in as number five on that list.
In 1965, Prime Minister Lee Kuan Yew created the master plan behind the modern Singapore, a "first-world oasis in a third-world region", as the now 90-year-old Mr Lee has put it.
Having few natural resources, Singapore invested heavily in education in order to build and maintain a well-educated work force. Currently, approximately 20% of government spending goes into education.
Based on rankings achieved in mathematics, science and reading literature, Singapore comes second in the overall results, just behind Shanghai. Some 12.3% of students in Singapore attain the highest levels of proficiency in all three assessment subjects.
Students work hard and do more hours of maths and science than the OECD average. Not only do the students feel a notable pressure from their "tiger parents" as well as the society in whole, there's also a sharp focus on the teachers.
Teaching in Singapore is a highly respected profession. They are selected from the top third of each cohort, and to keep them on track with the newest teaching techniques they are entitled to 100 hours of professional development every year.
The country's education system is often criticized for not producing "out-of-the-box" thinkers, but efforts are being made to change that. The Ministry of Education recently cut academic content to create space for schools to develop critical thinking.
8. The lowest drug abuse in the world
Most places in the world have a neighbourhood known for its drug problem, but not Singapore. The country has the lowest level of drug abuse in the world when it comes to opiates, cocaine and ecstasy, and the second lowest for cannabis and amphetamines, according to a UN World Drug Report.
Punishments for possessing drugs are harsh - possession or consumption of cannabis can earn you up to 10 years in prison, a 20,000 Singapore dollar (£10,000) fine, or both. And the zero-tolerance approach can also mean a mandatory death sentence.
Getting caught trafficking 30 grams of cocaine or 15 grams of heroin will put you on death row, where some 34 people are currently facing execution.
9. The third-largest gambling market
The quick moves of the slim hand reveal both anxiety and routine as the young woman places her bet on the roulette. In front of her are stacked several piles of tokens worth more than 5,000 Singapore dollars.
It is Thursday night and the giant casino is buzzing. Singapore legalised gambling only three years ago and licensed two large casinos to attract more tourists. Visitor numbers have jumped nearly 50% since.
What's more, the casino industry paid 2.2bn Singapore dollars (£1.1bn) in tax and contributes an estimated 1.5-2% to Singapore's GDP.
There is a long tradition of gambling but to keep scandals (and suicides) to a minimum, locals have to pay an entrance fee of 100 Singapore dollars, whereas a foreign passport gives you free access to the glittery machines and freedom to win or, more often, lose money.
Singapore's casino industry pulled in an impressive US$5.85bn in 2012, up 8% on the year before, putting it in third place globally. That's close to Las Vegas' US$6.2bn, but some distance from the world's number one gambling market, Macau, which generated US$38bn.
Though the Singapore casinos have seen a decrease in visitors as the novelty factor fades away they still attract around 17,000 people a day.
10. The most unhappy people in the world
In Singapore you can find almost anything you desire but one thing in short supply, apparently, is happiness.
When asked if they had been well-rested, treated with respect, if they had smiled or laughed a lot, and had done or learnt something, only 46% of the Singaporeans replied "yes".