Obituary: Hakimullah Mehsud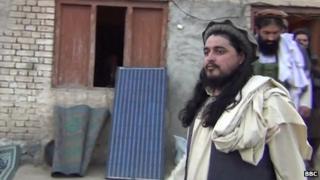 Pakistani Taliban leader Hakimullah Mehsud has been killed in a US drone strike, a high-ranking Taliban official has said.
The militant chief, who was thought to be in his mid-30s, first came to prominence in 2007 after a number of major raids against Pakistan's army.
At that time he was one of several commanders in the militant group, which has killed thousands of people in its war against the Pakistani state in recent years.
He was the anointed successor to Baitullah Mehsud, and took over as leader after the latter was also killed in a US drone strike in August 2009. Hakimullah's second-in-command, Waliur Rehman, died in a drone strike in May 2013.
From his base in the tribal areas, Hakimullah was loosely in control of the more than 30 militant groups operating in Pakistan's north-west.
He had a $5m US reward on his head, as well as a smaller bounty offered by Pakistan.
But he was never media-shy. Hakimullah gave an interview to the BBC in tribal areas near the Afghan border in October.
In that interview he remained alert to the constant threat of attack from the sky.
"Don't be afraid, we all have to die one day," he calmly told our correspondent.
Battle skills
Hakimullah was powerful, feared and respected among the Taliban and held daily meetings with tribal members, directing where attacks would occur.
But his beginnings were hardly auspicious.
His only schooling was at a small village madrassa (religious school) in Hangu district.
One of the other students at the time was Baitullah Mehsud, but he dropped out.
Hakimullah - a nom de guerre he took to replace his birth name Zulfiqar - later joined his fellow clansman in jihad (holy war), initially acting as bodyguard and aide to the older militant.
Baitullah's consolidation of most of Pakistan's Taliban groups into a single entity provided growing opportunities for his talented young friend.
He masterminded the campaign against Nato convoys in the Khyber tribal region and Peshawar, later being appointed Taliban commander for the regions of Khyber, Kurram and Orakzai.
Hakimullah's audacious capture of 300 Pakistani soldiers in 2007, when he was just 28, added to his prestige and led to several high-profile militants being freed in line with Taliban demands.
In January 2010 he gained further notoriety when he appeared in a video alongside a Jordanian who is said to have blown himself up, killing seven CIA agents in Afghanistan to avenge Baitullah Mehsud's death.
BBC correspondents who met Hakimullah Mehsud in 2007 and 2008 remember a daring, even rash, young man with a pleasant smile - but who always radiated danger.
Wild streak
He was already famous within the Taliban for his skills in battle, notably his ability to handle a Kalashnikov and a Toyota pick-up.
"He is the best after Nek Mohammad," a Taliban driver told the BBC during a hair-raising journey in 2007.
Nek Mohammad was the founder of the Taliban movement in Pakistan.
He was killed in a suspected US drone attack in 2004 but not before he had made the Pakistani Taliban a force to be reckoned with.
The comparison with Hakimullah Mehsud sits well - both were handsome young men with an aggressive instinct.
But Hakimullah was known to possess a wild streak which bordered on the reckless.
In 2007, he took a BBC crew for a drive, handling the vehicle like a man possessed, manoeuvring around razor sharp bends at barely possible speeds.
He finished the demonstration by braking inches short of a several hundred-foot drop.
While the BBC crew sat in stunned silence, he just laughed chillingly and stuck the car in reverse to smoothly continue the journey, former BBC correspondent Syed Shoaib Hasan says.
"I went to Karachi once when I was a small boy," Hakimullah said when asked how and where he had travelled in Pakistan.
"But I used to go to Punjab quite often, and have been to Islamabad several times, though not recently."
Because of the constant threat of US drone strikes, Hakimullah ceased his frequent phone calls to BBC Urdu.
It was in one such call in August 2009 that Hakimullah ended weeks of rumours about Baitullah Mehsud's health and confirmed he had taken over.
Like Baitullah Mehsud and Nek Mohammad before him, he always maintained he would keep fighting until Sharia law was imposed - not just in the border areas near Afghanistan, but across Pakistan.