Australia seizes $190m of drugs stashed in tyres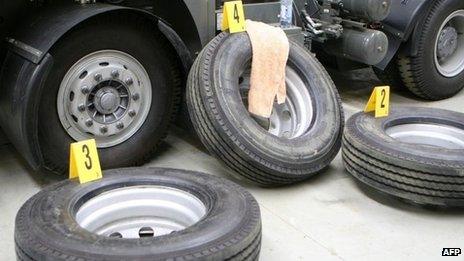 Australian officials say they have seized more than 200kg (441lbs) of the drug methamphetamine, hidden in the tyres of a truck.
Three men were arrested in Melbourne over the drugs, also known as meth or ice, worth an estimated A$200m ($190m, £118m).
This is the latest in a series of drug busts conducted by Australian officials.
Last month, officials made a record seizure of the drug ephedrine.
A joint task-force in the cities of Brisbane, Sydney and Melbourne conducted the operation, according to a statement from the Australian Federal Police.
The shipment containing the medium-sized truck arrived in Melbourne from China on 1 October, local reports say.
Graham Krisohos, an official from the Australian Customs and Border Protection Service, said there was nothing unusual about the truck, but the concealed drugs showed up on X-ray.
Two of the three men arrested were dock workers.
Last month, Australian officials said they made one of the largest seizures of the drug ephedrine, hidden in a shipment from India to Melbourne.
A joint agency task force seized A$200m worth of the drug, which is used to make crystal methamphetamine.
Related Internet Links
The BBC is not responsible for the content of external sites.