Takashi Yanase, creator of Japan's Anpanman cartoon, dies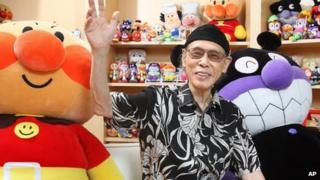 Japanese cartoonist Takashi Yanase, creator of the popular Anpanman series, has died at 94.
His agency said Mr Yanase had died of heart failure at a Tokyo hospital.
He created Anpanman, a superhero with a head made of anpan, or bread filled with red bean paste, who first appeared in a picture book in 1973.
A television series starring the same character started in 1988, and has become popular in several countries outside Japan.
Anpanman's nemesis is Baikinman, or "Bacteria Man", whom he takes on in order to protect the weak, on occasion offering up his own head to them as sustenance.
The series entered the Guinness Book of World Records in 2009 for the largest number of characters, at more than 1,700.
'Gentle embrace'
After Japan's Tohoku region was devastated in the March 2011 earthquake and tsunami, the Anpanman theme song was repeatedly played in north-east Japan to cheer up the survivors, Kyodo news agency reports.
Mr Yanase was also a poet and wrote lyrics for children's songs.
"Mr Yanase was the Anpanman. He embraced us gently and taught us to share," actress Keiko Toda, whose voice was used for Anpanman's character on the TV show, said in a statement, according to AP new s agency.
"We've lost a precious guiding post," she went on.