China flood protests: Police out in force in Yuyao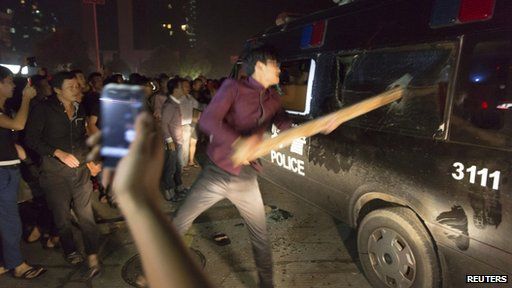 The authorities in a city in eastern China are on high alert after angry residents clashed with police over the government's flood relief efforts.
Armed police are out in force in Yuyao in Zhejiang province, after thousands of people protested in front of the government office there, throwing stones and overturning vehicles.
Residents say little was done to help after Typhoon Fitow struck last week.
Protests against officials are common, but rarely reported by state media.
Residents in Yuyao have been in confrontation with the authorities since last week after complaining about what they say was a slow government response to widespread flooding caused by the typhoon.
Their anger is said to be fuelled by state-run media which have praised the government's relief efforts.
Online photographs and video footage - which apparently originated on Weibo, China's version of Twitter - show large crowds of people gathered in front of local government offices on Tuesday.
They also show some protesters trying to dismantle the Communist Party's mantra - "Serve the People" - mounted at the entrance to the building.
Several demonstrators were photographed with bleeding wounds to the head, apparently after being struck by police.
Other videos show a police vehicle being overturned during earlier protests.
Liu Yuefei, founder of Civil Rights and Livelihood Watch, confirmed to the BBC the authenticity of these photos.
"Local people I've talked to in Yuyao say armed police are everywhere," he told the BBC. "A number of people have been arrested, but I don't know how many."
State-run media in China were slow to report local anger in Yuyao.
But on Tuesday the Yuyao Daily, run by the local Communist Party, criticised the violence.
"A small number of the protesters have resorted to violent acts while the relief operation has reached a critical stage," it said.
Residents should "express their rational demands at an appropriate time, and in a reasonable manner".
"Everyone has a duty to maintain stability, let us do more to help disaster recovery and social stability and resolutely not participate in matters that will hurt disaster rebuilding and recovery efforts and social stability," the newspaper said.