Australia pensioners 'used as drug mules' to Canada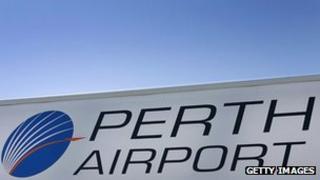 An elderly Australian couple were unwittingly used as drug mules in a ruse involving a free trip to Canada, Australian police have revealed.
The couple, from Perth, were told they had won a week-long trip, with flights, hotel and new luggage included.
But when they landed back in Perth, they told customs officials they feared something was wrong with their luggage.
Officials subsequently found 3.5kg (8 pounds) of methamphetamine in the lining of each bag.
The incident happened on 13 October. A 38-year-old man was arrested later that day at Perth airport and has since been charged with drug-related offences.
Local reports put the value of the drugs at A$7m ($6.7m, £4.1m) and said police believed the suitcases were swapped while the couple, aged 72 and 64, were in Canada.
In a statement, police said the subsequent investigation had revealed "a complex and highly-organised scam in which older Australians appear to be targeted by a bogus Canadian-based tour company identifying itself as 'AUSCAN Tours'".
"The organisers of this scam went to great lengths to provide a facade of legitimacy," Perth Airport Police Commander David Bachi said.
"Thankfully the travellers contacted Customs and didn't dismiss their concerns, allowing us to make the arrest."