Further deaths in Bangladesh opposition strike violence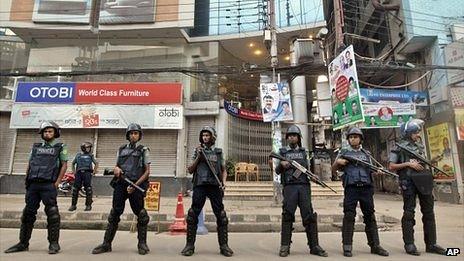 At least four people have been killed in clashes in Bangladesh on day two of a strike called by opposition groups to force the government to resign.
There were street battles across the country between supporters of the opposition and the ruling Awami League.
The three-day strike is being spearheaded by Khaleda Zia, head of the Bangladesh Nationalist Party (BNP).
She wants the prime minister to install a neutral caretaker administration to oversee January's general election.
But Sheikh Hasina disagrees and wants a coalition involving all parties.
Correspondents say Monday's violence was mainly focused in small towns, but there were also reports of arson, vandalism and crude bomb blasts in several parts of the capital, Dhaka. An office of the Awami League was torched in the early hours of the morning.
At least three people were killed on the strike's first day on Sunday.
The BNP and its Islamist ally, Jamaat-e-Islami, hope the shutdown will bring the country to a standstill.
They are refusing to participate in elections under current constitutional provisions, which do not allow for a neutral caretaker government, nor require the incumbent prime minister to step down during the interim period.
The BNP fears the Awami League will rig the elections if it remains in power.
Acting BNP general secretary, Mirza Fakhrul Islam Alamgir, said the government could not be trusted to conduct a credible election.
"In this country, the political parties do not trust each other. We had the system earlier, but unfortunately this government amended the constitution and brought in the partisan government," he was quoted as saying by the Reuters news agency.
The strike began despite a plea from the Prime Minister Hasina during a rare telephone conversation Ms Zia. The BNP leader has accepted an offer of talks but only after the strike ends on Tuesday.
"We are ready to hold a dialogue after 18:00 (12:00 GMT) on 29 October if the prime minister invites us," party spokesman Mirza Fakhrul Islam Alamgir told bdnews24.com.