How technology is changing Indian weddings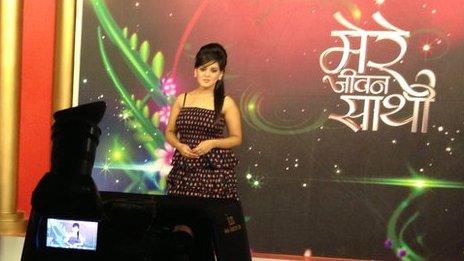 Would you go on national television to look for a potential spouse? Well, a lot of people in India are doing just that.
A newly launched Hindi-language channel called Shagun TV is wholly dedicated to match-making and the weddings business.
In its studios outside Delhi, a young presenter is reading from a teleprompter. "The next prince charming is 5 feet 7 inches in height, 75 kg in weight, earning 5 lakhs ($7,500, £4,700) annually and he is looking for a shy and beautiful bride. Could it be you?" the presenter asks.
With bright colours and peppy background score, it looks like a pop music show.
The channel head, Anuranjan Jha, says the shows have found quite a few takers and attract around 10 million viewers a week.
Anuranjan Jha says finding participants for the show was never a problem.
"In India, a marriage involves the entire family. So there's no question of being discrete or shy. When people can advertise in newspapers or websites, why can't they get on air to look for the best matrimonial partner?"
The channel expects to start making money within the first year. It won't be surprising as weddings in India involve a lot of money.
Families usually start saving early and spend a lot of money buying gifts, clothes and gold jewellery for the entire family during weddings.
And if there is one thing that's entirely recession proof - it's the Indian wedding industry. There are over 10 million weddings in India every year.
Estimated to be worth over $25bn and growing at 30% annually, it's one industry that hasn't seen a slowdown. Half of the nearly 900 tons of gold consumed in India is bought during the wedding season.
Whether it's getting on air or getting online, technology is rapidly influencing everything around weddings.
Getting ready for her big day, Gunita Bindra has travelled all the way from Jacksonville in Florida to Delhi to get married.
But in the months ahead of the wedding, she found her make-up artist, photographer and dress designer sitting in Florida.
As families get smaller and more distant, wedding planning too has changed.
Without access to the vast array of aunts, cousins and other relatives who traditionally help with shopping and planning an event of this scale, more and more young Indians are having to rely on the internet, she says.
"I spent a lot of time on Google looking for dresses, the latest trends, new styles. The bulk of my wedding planning I did online."
Using social media and recommendations of her friends, she found photographers Bhumi Alhuwalia and Simran Kapur online too.
The two women specialise in wedding photography that captures candid moments, behind the scenes activity and is very different from what traditional photographers in India film.
The internet has created opportunities for them, says Simran.
"It's been a great avenue for us. People are very keen for our kind of work. That interest only grows once they see more of our work online."
They mainly get commissioned by expat Indians. As they live abroad and get married here in India, it's much easier to talk to over email and look at portfolios online.
Wedding photography as a business is growing at phenomenal pace, says Canvera, a Bangalore-based photography company.
Started by two techies, Dhiraj Kacker and Peeyush Rai, the company helps photographers publish top-quality wedding albums. Their business plan is to help traditional wedding photographers with online tools that include creative templates and software that can be used to customise wedding photographs into a coffee table book-style product.
The company now has over 15,000 photographers as clients. But it estimates that there are at least 250,000 active wedding photographers in the country.
"There are millions of weddings taking place in India and even if a small percentage of those couples want a wedding album printed, it's a huge business," Dhiraj Kacker says.
It's not just photographers - other traditional family-run businesses too are rushing online.
One such is bridal-wear retailer Chhabra 555, which is now seeing a substantial amount of its sales come from online customers.
Heena Malhotra is the designer at the company. Her grandfather started the business and it now has over 60 outlets across the country.
She says brides now come armed with a lot of research and know exactly what colours dominate a particular wedding season.
"Brides don't mind buying their wedding ensemble online. Traditionally, people wanted to look and feel the fabric and texture before buying an expensive saree or lehenga (long skirt). But now they are more open to online shopping."
Getting retailers like them online is a tech start-up, MyShaadi.in, who are marrying the old with the new.
The company is an online wedding planner, creating websites and managing guest lists along with suggesting where to shop and what to buy for the big day.
Indians have always had big fat weddings so what's changed now?
Abhishek Jain, founder of MyShaadi.in, says: "One thing that's different now is that the couple is involved in the decision-making, which was not happening earlier."
"They have to decide who is the right jeweller, the right invitation card designer and even things like where to go for the honeymoon. This information they look for online- that's where we get in and advise them on everything."
No one does weddings like Indians. Even the simplest of weddings can have several days of feasting and host hundreds of guests.
So while the celebrations haven't changed, marrying technology and weddings seems to be bringing in some method into the chaotic Indian wedding industry.
For both couples and businesses catering to them, this can really deliver a happy ending.