Tajikistan elections get social media makeover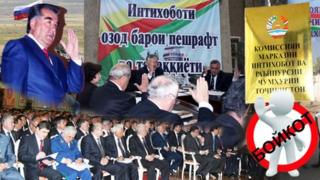 Tajikistan is holding presidential elections on 6 November, with incumbent Emomali Rakhmon - the leader of Central Asia's poorest country since 1992 - expected to win.
Widespread corruption, unemployment and a lack of political and media freedoms have held the country back. But after years of stagnation, the uptake of social media is starting to change Tajik politics.
Shahnoz Komilzoda is the smartly dressed spokeswoman for one Tajikistan's thriving mobile phone companies.
"I'm a keen social media user," she says. "Once you read social media in Tajikistan you understand what is happening in the country."
Ms Komilzoda is one of a growing number of young professional Tajiks who shun traditional media in favour of social networking sites.
"The state media is no alternative and one can feel that it [social media] is a growing power. People are not the same as they were a few years back," she adds.
The power of the internet is fuelled by a competitive mobile phone market offering a range of deals.
For around $3 a month customers can get unlimited access to a social media site of their choice, Shahnoz Komilzoda says.
Such freedoms have changed the atmosphere of the elections.
In the last poll in 2006, Emomali Rakhmon won with almost 80% of the vote. But international observers were unimpressed with the lack of political competition and debate, and with numerous media restrictions.
This time round the silence has made way for an energetic debate, driven by hundreds of thousands of netizens eagerly discussing the campaign on Facebook and the popular Russian social media site Odnoklassniki.
Most here say there is little doubt about the outcome of the elections, not least because the only opposition candidate, a well-known human rights campaigner, is out of the race.
But Oynihol Bobonazarova caused a stir nevertheless when she was interviewed after being disqualified for failing to collect the 210,000 signatures required to stand.
She bluntly attacked the president, saying: "I am different, I am educated, I had a good upbringing and I have faith" - an apparent reference to Mr Imomali's farming background and criticism of his manners on social media.
The publication of such a critical interview in the Tajik media immediately became a heated topic on social platforms, with many applauding her courage.
It is just one sign that a young generation, many of whom face unemployment at home or who have left for Russia in search of jobs, have found a voice.
'Discussing everything'
And local markets are providing the tools. The trade in cheap Chinese-made smartphones is buzzing in the capital Dushanbe.
Some mobile operators are offering free internet applications for popular social media sites like Facebook and Odnoklassniki.
The Association of Internet Providers of Tajikistan estimates that almost half the population of Central Asia's poorest nation is now connected to the internet, mainly through their mobiles.
A growing number of activists are using the platform, setting up social media discussion groups which tackle topics ranging from road accidents to politics.
Of a population of around seven million, the Odnoklassniki platform alone has almost 300,000 daily users.
Facebook attracts fewer people, but still many more than in neighbouring countries.
Some write openly using their own names, others prefer a pseudonym, the moderator of one discussion group on Facebook says.
'We are free on the net, we're discussing all matters, you name it," he says.
"Dozens of discussion groups inside and outside Tajikistan are talking about corrupt officials, drug trafficking, unemployment, migrant workers - and obviously officials don't like us. But they also know that they can't do much."
Hate messages
Abdufattoh Shafiev is a well-known blogger who works for an international organisation in the capital Dushanbe.
He says when Facebook first became known in Tajikistan, many young professionals employed at foreign embassies and international organisations signed up, driven by a desire to highlight problems in society.
"Compared to Odnoklassniki, Facebook users are a small group, but almost all of them are educated and employed," he says.
"Government officials got worried, because Facebook was getting so popular and all the 'forbidden themes' were suddenly online, like corruption, drug trafficking, unemployment and migration."
Mr Shafiev says that the authorities blocked Facebook twice in the past year, but had to relent following external and internal pressure.
"Now they are forming special campaign groups to intimidate bloggers and activists," he says. "They are sending hate messages and threaten us."
But it seems there is nothing that is not being turned into an online discussion in Tajikistan.
Last month the underage son of a senior official was involved in a car crash in which three people died.
Some media were quick to ask how a 16-year-old managed to secure a licence, driving a flashy car late at night.
Social media exploded with accusations against high-ranking officials.
'Does [the] president know what is happening?" one Facebook user asked. Another wrote "Lives of ordinary people are cheaper than a penny in Tajikistan! How come his son can drive such an expensive car? Where is the money coming from?"
Such open debate is also having an impact on traditional media.
Online publications and even some newspapers are now daring to challenge the authorities directly, mainly by giving a platform to readers' comments.
But while the result has been a much livelier public debate than in previous polls in Tajikistan, no one predicts that it will have an influence on the result of the 2013 election.