Maldives crisis: Candidates 'agree to 9 November vote'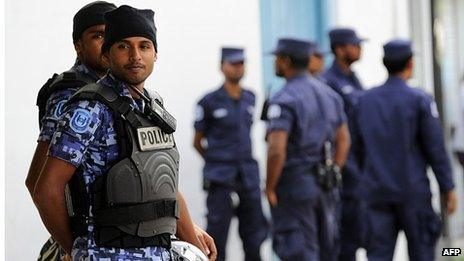 The Maldives' three presidential candidates have agreed to take part in elections on Saturday as planned, the president's office has told the BBC.
Media Secretary Masood Imad said they were doing all they could to prevent the country "falling into limbo".
It will be the third attempt at holding polls, after the first round was annulled and a rerun stopped by police.
The opposition have accused the government of trying to prevent their candidate from winning.
The Maldives has been in turmoil since ex-President Mohamed Nasheed was ousted in disputed circumstances in 2012.
Mr Nasheed, who led the first round with 45% of the vote, has been fighting for the elections to be held.
However, the other two remaining candidates, Gasim Ibrahim and Abdullah Yameen, have yet to sign updated voter lists, a requirement imposed by the Supreme Court.
Mr Imad said they had now agreed to do so, paving the way for Saturday's election to go ahead.
Current President Mohamed Waheed Hassan Manik secured only 5% in the first round on 7 September and has since withdrawn from the election.
Mr Imad told the BBC that if no candidate gets more than the 50% required to win outright then they would look to hold a second round on Sunday or Monday.
He said the president was "doing everything he can" to ensure that a new leader was in place by 11 November, in line with the constitution.
Previously the second round had been scheduled for 16 November.
President Waheed would hold a meeting with the Election Commission later on Wednesday to discuss the issue, Mr Imad said.
Mr Imad said holding two rounds on consecutive days would be "difficult", but that they would ensure the Elections Commission had all the resources it needed.
The UN and other observers have expressed concern over the delay in the vote.
On Monday, the US embassy in Sri Lanka warned that further postponement could damage the international reputation of the country, which is heavily dependent on tourism.
The main opposition Maldivian Democratic Party alleges that the government and judiciary are seeking to influence the outcome of the election, fearing Mr Nasheed will regain power.
The first round was annulled after the Supreme Court ruled that electoral lists contained irregularities, despite international observers praising it as free and fair.
Police halted the planned re-run on 19 October, after Mr Gasim and Mr Yameen failed to approve the registry of voters.
Mr Nasheed won the last election - the country's first democratic vote - in 2008, ending three decades of autocracy under President Maumoon Abdul Gayoom.
But in February 2012, he was forced from power in what he claims was a coup, allowing his then deputy, Mr Waheed, to take the reins. Mr Waheed denies a coup took place.