Tajik President Emomali Rakhmon re-elected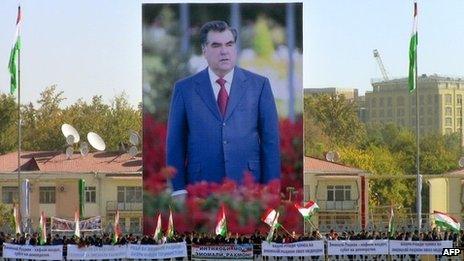 Tajikistan's President Emomali Rakhmon has won another seven-year term in office, electoral officials say.
They say he secured 83.6% of the vote in Wednesday's elections. Turnout was nearly 87%.
The president, who has been in power for two decades, faced five challengers but the only genuine opposition candidate was barred from standing.
"While quiet and peaceful, this was an election without a real choice," international observers said.
The authoritarian leader has been in office for more than 20 years in the impoverished former Soviet republic.
The EU and the US have not recognised a single election in the Central Asian country as free and fair.
President Rakhmon, 61, did not campaign actively.
Instead, he relied on extensive media coverage of his visits around the country, which his opponents say was heavily biased in his favour.
The opposition accuses Mr Rakhmon - whose huge billboards are seen everywhere in the capital Dushanbe and other towns - of developing a personality cult. He denies the claim.
The five other presidential candidates have refrained from publicly criticising Mr Rakhmon.
Human rights activists Oynihol Bobonazarova - widely seen as the only genuine opposition candidate - was banned from the polls.
The electoral commission said earlier she had failed to collect the necessary 210,000 signatures of eligible voters to be officially registered.
OSCE staff who monitored the elections said they were marked by "a lack of genuine choice and meaningful pluralism".
"Restrictive requirements, including the unreasonably large number of signatures potential candidates must gather to qualify, present significant obstacles and are at odds with OSCE commitments and other standards for democratic elections", an OSCE statement said.
It added that the extensive state media coverage of Emomali Rakhmon's activities had "provided him with a significant advantage".
"While quiet and peaceful, this was an election without a real choice," said Gordana Comic, who led the OSCE observer mission.
Despite the easy victory, critics say Mr Rakhmon will face rising social tension in the country where some 50% of the population live in poverty.
Almost half of the nation's GDP is earned by more than one million Tajik migrants working abroad, especially in Russia,
Analysts say Tajikistan could also face further security challenges from Islamist groups in neighbouring Afghanistan after the planned pullout of the US-led forces next year.
Tajikistan was devastated by the 1992-97 civil war between the Moscow-backed government and the Islamist-led opposition.
Up to 50,000 were killed before the conflict ended with a UN-brokered peace agreement.
Related Internet Links
The BBC is not responsible for the content of external sites.