Typhoon Haiyan: Survivors' stories in the Philippines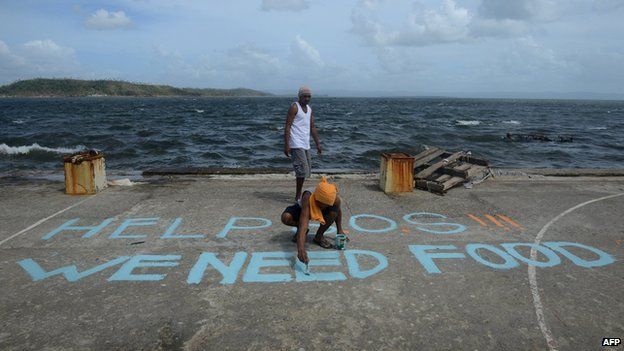 Typhoon Haiyan - one of the most powerful storms to make landfall ever recorded - swept through the central Philippines on Friday.
Twenty-one-year-old Emily gave birth to her daughter Bea Joy Sagales in a makeshift centre at Tacloban's airport on Monday.
Emily had to swim and cling to a post to survive the storm surge.
She named her daughter after her own mother, Beatriz, who was swept away by the giant waves.
The doctor who attended the birth, Captain Victoriano Sambale, said he was worried about the risk of infection - but there were no antibiotics available.
Evelina told the BBC World Service how she and four companions - including a five-year-old boy - managed to survive by clinging to a post for three or four hours as the water levels rose around them.
Her cousin was pulled away, but managed to swim to a coconut tree, with her five-year-old son clinging to her.
Jenny lost 11 members of her family, including her two-year-old daughter.
Jenny is eight months pregnant.
"Right now, all we can do is survive the day," she said.
"But I don't know what will happen tomorrow, or the day after that, or if we can continue surviving."
Faith, who cannot swim, says she told her husband to save their baby and forget about her.
Both she and the child survived.
She says she and other survivors need basics, such as water - without water, they are unable to cook rice.
Another survivor, Jeanette Bacsal, also said she could not swim and was saved by her father.
She said she was "blessed" to still be alive.
Erika said people were suffering from diarrhoea and dehydration, and medicines were needed.
"Please tell my family I'm alive," she said.
Grocery store owner Awelina said the situations was very difficult as there was no food in the warehouse or the malls.
"We are helpless - like a newborn," she said.
Luke Spence, visiting the Philippines from Ripon in North Yorkshire, told the BBC how he hid in a diving shop as the typhoon struck on Friday morning.
He saw sheet metal, wood and glass debris in the air.
He described the destruction as "absolute" in the local area, and said it was a "miracle" that more people on the island had not been killed.