Singapore lifts death sentence for drug trafficker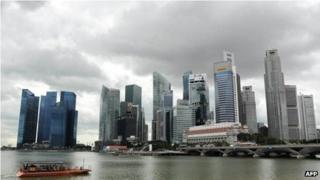 A Malaysian man convicted of drug trafficking has had his death sentence commuted in Singapore - the first case of its kind after legal reforms.
Yong Vui Kong was given the death penalty in 2009 for bringing 47 grams of heroin into the city-state.
Under Singapore law, trafficking more than 15 grams of heroin brings a mandatory death sentence.
But reforms that came into effect this year gave judges discretion on certain cases.
Those convicted of drug trafficking can have their sentences commuted if they aid police and acted merely as couriers, according to the latest changes.
Yong Vui Kong's sentence was commuted to life imprisonment and 15 strokes of the cane.
Yong's lawyer, M Ravi, told media that Yong "has repented".
"This is the happiest day of my client's life. He feels intense gratitude towards all those who have worked so hard to save him from being executed," Mr Ravi was reported by Agence-France Presse news agency as saying.
Yong, from Malaysia's Sabah state, was arrested in 2007 when he was 19. He was sentenced to hang in 2008, but appealed to overturn the decision at least three times.
"This is a landmark ruling, and possibly the first time in history that someone sentenced to death under Singapore's draconian drugs laws has had their sentence commuted," Roseann Rife, East Asia research director at Amnesty International, said in a statement.
This not the first time that the city-state has commuted a death sentence. At least four others on death row saw their sentences commuted this year, reports say.
Singapore passed changes to its capital punishment laws last year.