Pakistan imposes curfew in Rawalpindi after clashes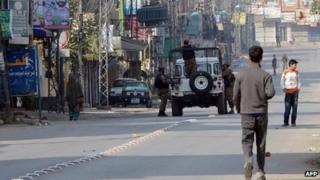 The Pakistani authorities have imposed a curfew in Rawalpindi, near the capital Islamabad, after eight people died in sectarian clashes on Friday.
The violence erupted as Shia Muslims staged a procession marking the religious festival of Ashura.
Dozens of people were injured and many shops set on fire in clashes between Sunni and Shia Muslims in the city.
The curfew was briefly relaxed for three hours on Saturday but has now been re-imposed.
Officials have not made clear when the curfew will be completely lifted.
Security forces are patrolling the streets and entry points into Rawalpindi have been closed. Police say the aim of the curfew is to "avert further violence" after Friday's violence.
At least 35 people were injured, many with gunshot wounds, in clashes that occurred when a Shia procession coincided with a sermon at a nearby Sunni mosque.
Dozens of shops and a seminary were set on fire.
Disturbances were also reported in the Multan and Bhawalnagar districts of Punjab province, with the army being called in to quell unrest.
The Rawalpindi unrest took place during one of the most religious occasions for Shia Muslims, commemorating the anniversary of the death of Imam Hussein, the grandson of the Prophet Mohammed.
The authorities have stepped up security ahead of the mourning ceremonies, including the jamming of mobile phone networks.
Tens of thousands of police and soldiers have also been deployed across the country to prevent possible attacks against the Shia minority taking part in the commemorations.