Yameen sworn in as president of the Maldives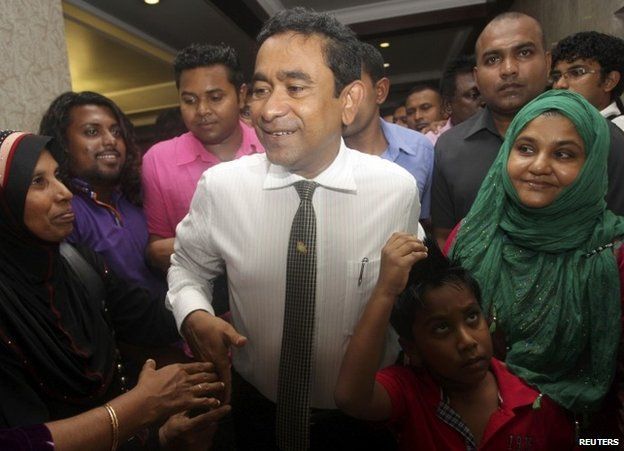 The winning candidate in the delayed presidential run-off election in the Maldives, Abdulla Yameen, has been sworn in in the capital, Male.
Earlier his rival, former President Mohamed Nasheed, conceded defeat, saying that having an elected president once more made it a "happy day".
Regional power India was among the first to congratulate Mr Yameen.
Maldivians and foreign diplomats hope two years of political turmoil are ending, a BBC correspondent says.
This drawn-out election process has been interrupted by interventions from the supreme court and the police which caused many to wonder whether there would be a conclusive result at all, the BBC's Charles Haviland reports.
Mr Yameen is a half-brother of Maumoon Abdul Gayoom, who was president for 30 years until 2008 and imposed rigid control over the archipelago - a Sunni Muslim country that is best known as a luxury holiday destination.
According to the election commission, Mr Yameen secured 51.3% of the vote in the run-off election, compared with 48.6% for Mr Nasheed.
In his first remarks after being declared the winner, Mr Yameen said the country desperately needed stability.
"Instead of confronting political leaders, we will confront the big challenges facing our country," he added.
Mr Nasheed said for his part: "I graciously accept defeat. We lost by a very small margin. Democracy is a process. It is up to us to make it work."
"India looks forward to co-operating closely with the new president of Maldives and his government," said Syed Akbaruddin, spokesman for the Indian ministry of external affairs, in a tweet.
"We welcome the acceptance of the verdict of the people of Maldives by all sides and commitment expressed to take the country forward on the path of stability, progress and development," the Indian ministry added in a statement.
There had been months of legal and political wrangling over the election, causing concern among foreign diplomats.
The first round of the election only took place on 9 November after the supreme court annulled a first vote on 7 September amid allegations of electoral fraud, and its planned re-run on 19 October was halted.