Nepal voting ends for new Constituent Assembly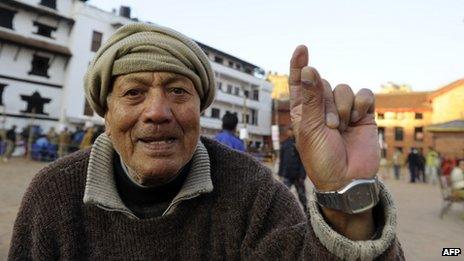 Voting has ended in Nepal which is electing a new assembly to write a long-delayed constitution.
Officials said turnout was 70% and voting largely peaceful. Earlier, three people were hurt by a bomb in Kathmandu which followed a series of attacks blamed on opponents of the poll.
Full results are not due for several weeks. No clear winner is expected.
The vote is the second since a 10-year Maoist revolt ended in 2006. The previous assembly failed in its task.
It was elected in 2008 after the overthrow of the monarchy but was bitterly divided.
An interim government formed earlier this year by Nepal's major parties has overseen the elections and is led by the Supreme Court's chief judge, Khilraj Regmi.
On the eve of the vote, he condemned sporadic violence in different parts of the country and said the security forces would ensure a free and fair election.
A group of opposition parties, led by a breakaway Maoist faction, has called for nationwide disruption of the vote. It wanted a new government - with representation from all the political parties - to conduct elections at a later date.
Late on Monday, two people were injured in an explosion in Kathmandu, the Associated Press news agency reported.
A second blast outside a polling station in the capital injured three people just hours after voting began on Tuesday.
"A bomb exploded at 10:00 today in Bhote Bahal neighbourhood in Kathmandu. Three people including a child have been injured," a police spokesman told AFP news agency. The child was reported to be eight years old.
There were isolated incidents of violence elsewhere.
A home ministry official said the election had to be postponed at a polling centre in remote Jumla district after an attack by opposition activists.
Voting was also suspended for several hours at a polling centre in the western district of Dailekh after ballot papers were looted, officials said.
BBC Nepal's Bhagirath Yogi in Kathmandu said a very low turn-out was reported at one polling station in Rolpa district in western Nepal, a Maoist stronghold.
In the capital, local media reported long queues at polling stations.
Tirtha Narayan Manandhar, 85, told AFP news agency that he was pleased to have voted.
"Although I exercised my rights and cast my votes, I am not sure our belligerent leaders will deliver the constitution," he added.
The Election Commission said record numbers had cast ballots, with preliminary estimates suggesting turnout was about 70%. That compares with 60% in 2008.
The election is seen as vital in moving the country towards greater political stability.
But Nischal Pandey, director of the Centre for South Asia studies in Kathmandu, said if voter turnout was low he feared there could be another hung parliament.
"We're currently in the situation where there is no constitution, there is no elected government, there is no elected parliament and also there are no elected local bodies. So it's a complete vacuum from the top to the bottom," he told the BBC's Andrew North ahead of the vote.
The Himalayan nation became a republic in 2008, ending 240 years of monarchy.
Five governments have come and gone - two of them headed by the Maoists - since the former rebels won most votes but fell short of an outright majority in elections that followed.
The assembly elected then was originally given two years to draft a new constitution. The deadline was repeatedly extended but it could not deliver, and was dissolved more than a year ago.
Some 12 million voters were eligible to vote for the 601-member Constituent Assembly.
More than 100 parties are contesting the elections, including three major ones, the Maoists, the Nepali Congress and the Unified Marxist-Leninist. Of the more than 16,000 candidates, nearly 6,000 are women.
Hundreds of foreign observers are monitoring the polls.