Profile: Nepal Maoist leader Prachanda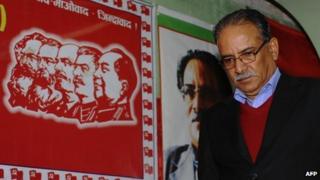 The career of former Nepalese Maoist Prime Minister Pushpa Kamal Dahal - better known as Prachanda (Fierce One) - has been characterised by his ceaseless battle to turn his country into a socialist-communist people's republic.
It was for this ideal that he fought a bloody 10-year war against the monarchy, going on to serve a brief stint as prime minister from 2008 to 2009 before a disagreement with the military - over his attempt to sack the chief of the army - brought his period in office to an early end.
Up until his fall as prime minister, Prachanda's career trajectory was mostly in the ascendant. But most critics agree that he has struggled to make the transition from rebel leader to conventional politician.
Evidence of these difficulties were clearly seen in November 2013 when a stunned Prachanda threatened to boycott parliament if vote-counting in "rigged" elections was not immediately halted.
Opulent lifestyles
Critics say that the former rebel leader had not realised the extent of his party's unpopularity since its dramatic election win in 2008 and was taken by surprise that the Maoists appeared to have been relegated to third place.
Further evidence of his difficulties in dealing with the cut-and-thrust of daily politics was seen in 2012, when he came under criticism for his decision to live in a new mansion with a monthly rent of 103,000 rupees ($1,312/£832) in the heart of Kathmandu.
It was not the first time that the Maoist leader and some of his top supporters were accused of abandoning their proletarian principles by embracing opulent lifestyles - in some cases complete with palatial residences, luxury cars and private medical facilities.
Resentment over this and other issues led to a hardline faction within the Maoist party breaking away to form a separate party in 2012.
The leader of the new grouping said the split happened because the party's leadership had "annihilated the achievements" of the 10-year civil war which ended in 2006.
Prachanda, who will be 60 in 2014, is a former agriculture student and school teacher, who was born in the Annapurna region of Nepal.
His natural gift for military leadership enabled him to transform the Maoists from being a poorly armed rag-tag outfit into one of South Asia's most feared rebel groups.
More than 13,000 people died in the civil war in the impoverished Himalayan nation, which culminated in the king relinquishing his absolute powers and being forced to give up his throne in June 2008.
Up until then, very little was known about Prachanda. Nepalis knew him from only a couple of photographs. He was rarely seen in public and was constantly slipping between India and Nepal to escape the authorities.
Mild-mannered
The Maoists derived their inspiration from Peru's Shining Path rebels.
But Prachanda's clandestine lifestyle was to change at the end of the war when he found himself uncomfortably having to adapt to the rigours of the 21st Century media spotlight.
The former rebel leader - moustached, bespectacled and with a slight paunch - emerged from his hideout in rural Nepal deeply immersed in Maoist ideology, something he shares with his three daughters and a son, who all support the movement. His wife, whom he met through the party, is also a Maoist official.
The BBC's Charles Haviland, who interviewed him in 2006, said that he came across as surprisingly mild-mannered and shy - more humorous than intimidating and without the charisma of some revolutionary leaders.
This assessment stood in sharp contrast to the perception of him as a ruthless leader during the Maoist rebellion, who was responsible for executions and terrorising swathes of Nepal's population.
But few have seriously doubted that beneath Prachanda's mild manner there lies a tough interior.
Puritanical
The Maoists participated in the country's first parliamentary elections in 1991 but their disenchantment with political squabbling, and anger at the plight of the rural poor prompted them to take up arms.
Prachanda has always said that he wants an end to class, caste and gender barriers.
Some see him as puritanical, publicly expressing his dislike of alcohol, gambling and "vulgar literature" from India and the United States.
But he showed his willingness to compromise on his political ideals by holding talks with the government following a peace deal in 2006 that brought an end to the king's direct rule.
The Maoist leader reassured doubters that he was willing to take part in democratic elections in 2008 and would accept the results of the vote.
After his party emerged as winner, one of his first moves was to reassure foreign investors and privately-run businesses that he would not eradicate the private sector.
One of his top priorities now will be to recover from his election setbacks in 2013, and concentrate on his long-standing battles against rising food prices and high unemployment.