Nepali Congress leads Constituent Assembly vote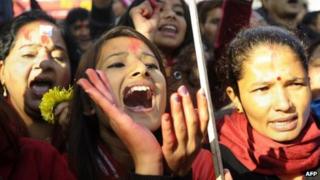 The Nepali Congress party has a clear lead in elections to a new Constituent Assembly with nearly half the seats counted, the Election Commission says.
Results show the party winning 105 of the 240 directly elected seats. The Communist Party of Nepal (UML) is on 91 seats and the Maoists have 26.
Counting is continuing in 335 seats elected by proportional representation.
The vote is seen as vital in moving Nepal towards political stability after a 10-year Maoist revolt ended in 2006.
A previous assembly was elected in 2008 after the abolition of the monarchy, but it was bitterly divided and failed to write a new constitution.
The Maoists won most votes but no overall majority in those elections, but this time alleged widespread fraud after it became clear how badly they were doing.
Last week they said they would boycott the new assembly if vote counting was not stopped and an investigation carried out.
The Election Commission rejected the demands. Its officials and foreign observers say the election was well conducted.
As well as the seats to be allotted by proportional representation, another 26 are directly appointed in the 601-member assembly.