Nepali Congress wins most votes in elections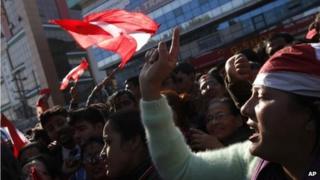 The centrist Nepali Congress party won the most votes in last week's general elections, latest results announced on Thursday show.
The Maoists - who formed the single largest party in the previous Constituent Assembly - have been relegated to third place.
They have complained that the results have been systematically rigged.
The vote is seen as vital in moving Nepal towards political stability after a 10-year Maoist revolt ended in 2006.
Final results in the vote - conducted through a mixture of direct voting and proportional representation - are expected over the weekend.
The previous assembly - elected in 2008 after the abolition of the monarchy - was won by the former rebels. But the Constituent Assembly (CA) was bitterly divided and failed to write a new constitution.
The Congress party has said that it may now form a government of national unity that would include the Maoists and the Communist Party of Nepal (UML) which came second in the vote.
On Thursday, the Election Commission said counting of votes under the proportional representation system had been completed. It said that the Nepali Congress party had won more than 2.4 million votes while the Maoists had won about 1.4 million votes.
Experts say that the Nepali Congress has won about 200 seats in the 601-member CA while the Maoists will only get about 80 seats.
The UML has won about 175 seats, ahead of the pro-monarchy Rastriya Prajatantra Party Nepal and about nine parties which represent the Madeshi community in the south.
Officials said that more than 70% of the 12 million eligible Nepalese voters cast their ballots in the elections held on 19 November.
They said Nepal might have to wait for least at another two months to get a new government.
The BBC's Bhagirath Yogi in Kathmandu says that Nepal's future stability - as well as any new constitution - may well depend on the Maoists joining a national government, which is why intense negotiations are likely to take place in the next few days over the allocation of ministerial portfolios.