Thailand Constitutional Court says polls can be delayed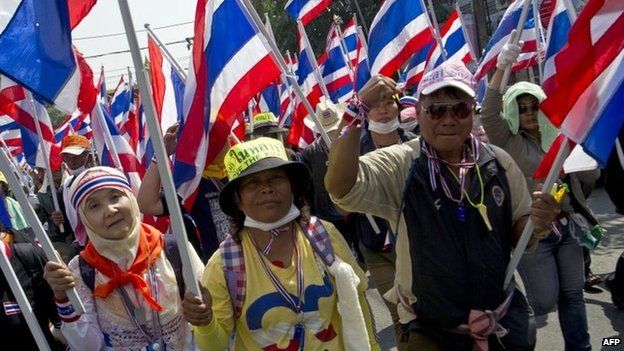 Thailand's Constitutional Court has ruled that polls scheduled for 2 February can be legally postponed.
But it said any postponement must have the agreement of the election commission and the prime minister.
The election commission says polls should be delayed because of political turmoil. The government insists elections should go ahead as planned.
A state of emergency is in place in Thailand as protesters call for PM Yingluck Shinawatra to step down.
Protesters, who started their campaign in November, want to install an unelected "people's council" to run the country until the political system is changed.
They say Ms Yingluck's government is being influenced by her brother, exiled former leader Thaksin Shinawatra.
At least nine people have died since the wave of protests started last year.
Both the pro-government "red shirt" activists and the anti-government protesters have blamed each other for outbreaks of violence.
The electoral commission and the main opposition party, the Democrats, have called on the government to delay the polls, saying that the current unrest makes conducting free and fair elections too difficult.
The government, however, has said there was no legal basis to delay because the constitution provides that there must be an election 45-60 days after parliament is dissolved.
"The Constitutional Court weighed in with its decision that the Election Commission and the Government must decide together on the delay. "
But it is by no means clear whether the election commission can persuade the government to agree with its plans.
"We will ask to meet with the prime minister and her government on Monday to discuss a new election date," election commissioner Somchai Srisuthiyakorn told Reuters news agency.
But he added that if the government did not agree to a postponement, "then the election would go ahead".
Ms Yingluck's Pheu Thai party commands significant support, especially with rural voters, and is seen as likely to win the polls.
The opposition, which resigned from parliament in December, has said it would boycott the elections.
On Tuesday, the government imposed a 60-day state of emergency in Bangkok and three surrounding provinces. The decree gives the government the power to control crowds and censor media, but its enforcement has remained unclear.
Protests started after Thailand's lower house passed a controversial amnesty bill which critics said could allow former PM Thaksin Shinawatra to return without serving time in jail.
Pro-government supporters have mostly stayed away from the latest protests but observers fear further violence if they decide to take to the streets.
Meanwhile, Ms Yingluck is also being investigated by Thailand's anti-corruption body in connection with a controversial government rice subsidy scheme - a move that could potentially force her from politics.