Deedar Ali Jalbani: Karachi Shias bury murdered leader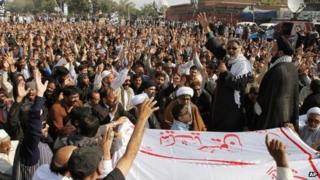 The funeral of prominent Shia community leader Allama Deedar Ali Jalbani has been held in the Pakistani city of Karachi amid rising tension.
The BBC's Karachi correspondent Shahzeb Jillani says that dozens of people have been killed over the last few days.
Karachi - Pakistan's biggest city - has for years been plagued by sectarian, ethnic and political violence.
About 1,200 Shias also held a protest over Mr Jalbani's killing in what police say was a sectarian attack.
He was shot on Tuesday along with his guard by gunmen in the eastern neighbourhood of Gulshan-e-Iqbal.
The city's main artery, MA Jinnah Road - which links different busy districts and shopping areas - was shut for hours because of the protest.
"We closed the road and stopped movement of traffic in the surrounding areas also to avoid any untoward incident," senior police official Pir Muhammad Shah told the AFP news agency.
Private schools in the city were closed and public transport was mostly off the roads because of security concerns over the protest staged by the Majlis-e-Wahdatul Muslimeen (MWM), of which Mr Jalbani was the deputy secretary general.
The city's three main universities all postponed examinations scheduled for Wednesday.