US veteran: North Korea confession under duress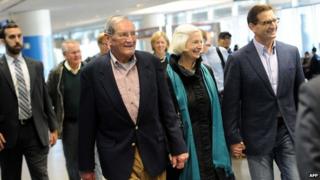 The 85-year-old US citizen held in North Korea for more than a month says his videotaped confession was given under duress.
Merrill Newman, a veteran of the Korean War, arrived back in California on Saturday.
North Korea's state news agency said Mr Newman was expelled on "humanitarian grounds" after confessing to "crimes" in the 1950-53 war and "apologising".
Mr Newman had been held while visiting North Korea as a tourist.
The pensioner from Palo Alto was taken off a plane as he prepared to leave the country on 26 October, following a 10-day tourist visit.
In a video released by North Korean authorities on 30 November, Mr Newman was shown reading his alleged apology.
It claims he was an "adviser of the Kuwol Unit of the UN Korea 6th Partisan Regiment part of the Intelligence Bureau of the Far East Command" - an apparent reference to one of the special operations units acting against the North.
'Forgive me'
Mr Newman allegedly confessed to trying to contact surviving soldiers during his trip to North Korea.
The statement added: "Please forgive me."
The North Korean authorities have previously been accused of coercing confessions from detainees.
US Vice-President Joe Biden welcomed Mr Newman's release as "a positive thing"
However, he renewed calls for Pyongyang to free another American, Kenneth Bae, held since November 2012 and sentenced in May to 15 years' hard labour.
Pyongyang said Mr Bae - described as both a tour operator and Christian missionary - had used his tourism business to plot sedition.