Asiana crash pilot 'stressed' by landing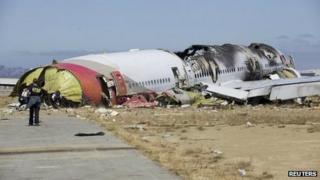 The pilot of a South Korean plane which crashed in the US has said he was "stressed" about landing without the aid of a key guidance system.
The Boeing 777 Asiana airlines plane from Seoul to San Francisco crashed on 6 July after it came in too low and hit a sea wall.
Three passengers - all young Chinese girls - were killed in the crash.
The information came as the US National Transportation Safety Board (NTSB) inquiry held a hearing on the crash.
Captain Lee Kang-kuk had only begun training to fly the Boeing 777 in February, logging just 35 hours. He had previously flown A320s for Asiana from 2005 until February.
The crash took place on a clear day. But the instrument landing system - which informs pilots whether they are flying too high or low - at the San Francisco airport was not functioning at the time because of construction work.
According to documents made public by the NTSB, Captain Lee said he had been "very concerned" about his ability to land the plane using a visual approach.
The plane's first officer, Bong Dong-won, told investigators he realised the aircraft was rapidly descending. He said he initially did nothing, but then spoke up at least four times about the plane's rapid descent.
Documents released also say that one of the passengers who died, Ye Mengyuan, 16, was hit twice by emergency vehicles on the airport tarmac, first by a fire rig spraying foam and then by a fire truck.
The NTSB is still investigating the case, with NTSB chief Deborah Herman saying that they would "take as long as we need to complete the investigation".