Afghanistan aircraft crash kills six US soldiers - Isaf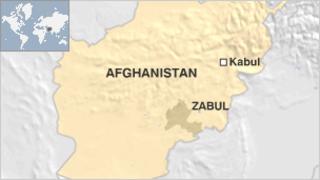 Six American soldiers have died in a crash involving an aircraft in southern Afghanistan, the International Security Assistance Force (Isaf) says.
The cause of the crash in Zabul is unknown and an investigation is under way, Isaf said.
Initial reports indicated there was "no enemy activity in the area" at the time of the incident, a short statement said.
US defence department officials confirmed the victims' nationalities.
The deputy governor of Zabul province told the Associated Press news agency that a Nato helicopter had crashed in the remote district of Shajau.
It was not clear if he was referring to the same incident.
The crash is one of the deadliest incidents for the Nato-led coalition in recent months.
There have been a number of crashes involving Nato aircraft over the last decade - either due to accidents or enemy fire.
In 2011, the Taliban said it had shot down a Chinook helicopter over Wardak province, killing 38 people, most of them Americans.
Earlier this year, Isaf handed over security for the whole of Afghanistan to Afghan forces, but some 97,000 troops remain.
The Isaf force currently has soldiers from 50 contributing nations - including some 68,000 from the US - providing military back-up when needed.
By the end of 2014, all combat troops should have left. They will be replaced by a smaller force that will only train and advise, which will need approval from the Afghan government.