Thailand government seeks military help in elections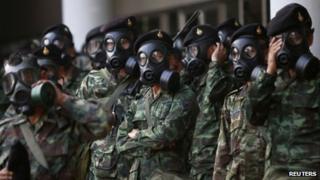 Thailand's government said it would ask the army to provide security for February's elections, as the military called for restraint on both sides.
The country is facing increasingly violent protests, with two killed and dozens injured in recent days.
On Thursday, the Electoral Commission said the polls should be postponed to ensure the safety of candidates.
However government officials said parliament was already dissolved so there was no legal reason for a delay.
Fighting broke out on Thursday at a stadium where election candidates were being registered.
'Red traffic lights'
A group of protesters, some throwing stones and evidently some who were armed, tried to break into the stadium.
One police officer and one protester were killed in the clashes.
With the police demoralised and seemingly unable to withstand the attacks by protesters, the government has asked the army to help secure the election, the BBC's Jonathan Head in Bangkok reports.
Deputy Prime Minister Surapong Tovichakchaikul said the government would ask the army to help secure candidate registrations on Saturday.
"I will also ask the military to provide security protection for members of the public on the 2 February elections," he added in a televised address.
Speaking to reporters on Friday, Thai army chief Prayuth Chan-ocha did not address the government's request.
Instead, he urged restraint on both sides and an end to street violence and said the army had shown "red traffic lights to both sides so things will calm down".
When asked if the army would intervene, Prayuth Chan-ocha said: "That door is neither open nor closed."
Military coups
The army, which mounted a successful coup only seven years ago, remains a powerful player in Thai politics, our correspondent says.
The army has staged several coups in the past, and ousted former Prime Minister Thaksin Shinawatra, who is also brother to current leader Yingluck Shinawatra, in 2006.
Ms Yingluck called the snap election earlier this month, following weeks of protests.
However, the opposition Democrat party is boycotting the polls.
Ms Yingluck's Pheu Thai Party won the last election in 2011 and has a big majority in parliament.
However, protesters say her brother controls the government from self-imposed exile.
Thaksin Shinawatra fled Thailand before being convicted of corruption.