Thai graft body to charge lawmakers over Senate move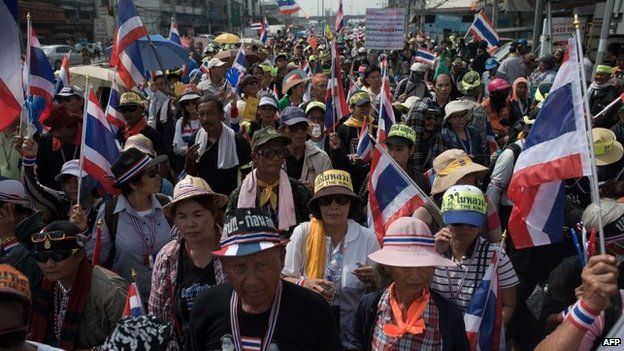 Thailand's anti-corruption body says it will bring charges against more than 300 politicians, mostly from the governing party, for trying to change the constitution.
A court ruled in November that the government move to make the Senate fully elected was unconstitutional.
The graft body said PM Yingluck Shinawatra would not face charges.
The move comes as Thailand heads for a general election on 2 February, amid opposition protests.
Ms Yingluck called the polls last month in a bid to end demonstrations by opposition supporters in Bangkok.
The protesters want Ms Yingluck's government replaced with an unelected "People's Council".
They say her government's populist policies - which they allege are controlled by her brother, ousted former PM Thaksin Shinawatra - have created a flawed democracy.
Ms Yingluck's party draws considerable support from rural voters and would be likely to win the election - which the main opposition party is now boycotting.
The National Anti-Corruption Commission (NACC) ruling will lead to another investigation and could potentially result in the 308 lawmakers being banned from politics.
The Constitutional Court last year ruled against the proposed amendment. The Senate was made partly appointed under a new constitution introduced in 2007, after the military removed Mr Thaksin in a bloodless coup.
Mr Thaksin's opponents see the constitution as a vital check against his influence, analysts say.
Court rulings have in the past been a key factor amid political turbulence in Thailand.
In December 2008, a government of Mr Thaksin's allies fell from power after a court disbanded their political party for electoral fraud, allowing the opposition to form a government.
The protesters, meanwhile, say they will prevent the election from going ahead in February.
On Tuesday thousands marched through a district of the capital in a second preparatory march ahead of a planned large-scale demonstration on 13 January that the protesters say will shut down Bangkok.
National Security Council chief Paradorn Pattanatabut said Ms Yingluck was prepared to declare emergency rule "if the protests seem likely to escalate into violence".
The political unrest is the worst to hit Thailand since the protests of 2010, which were against a government led by the current opposition party and left more than 90 people dead.
Both sides have called on the military - which has not ruled out another coup - to support them.
On Tuesday, Ms Yingluck played down coup rumours, saying she believed "the military commanders will think of long-term solutions rather than employing various measures unacceptable to many countries".