Thailand protests: Six injured in clashes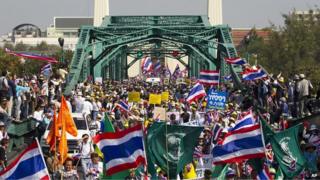 A clash between pro- and anti-government groups in Thailand has left six people injured, three of them seriously.
The violence, just outside Bangkok, occurred as the capital braces itself for a total shutdown planned by the anti-government movement for next week.
Guns were fired and explosives thrown in Friday's incident.
The protesters have been campaigning to overthrow Prime Minister Yingluck Shinawatra since last November.
The anti-government movement has occupied several streets in Bangkok, and blockaded Ms Yingluck's offices.
The protests have largely been peaceful, because the government's supporters have kept away from the anti-government side.
Populist policies
The protests began when the lower house of parliament passed a controversial amnesty bill, which some feared would allow former leader Thaksin Shinawatra - the brother of the current prime minister - to return to Thailand without serving a jail sentence for corruption.
Mr Thaksin was ousted in a military coup in 2006, but the protesters believe he is still controlling events in Thailand through his sister and her government.
He remains popular with many rural voters, and Ms Yingluck's Pheu Thai party is considered likely to win next month's election.
The protesters say her populist policies have created a flawed democracy, and want her government replaced with an unelected "People's Council".
They want the government to call off the election planned for 2 February, but the administration says it is sticking to its timetable.
However the BBC's Jonathan Head, in Bangkok, says that a series of court decisions - which could result in many candidates being banned or unable to contest the election - mean that even if it goes ahead, it is unlikely to produce enough MPs for a new parliament to sit.