Tonga homes flattened by powerful Cyclone Ian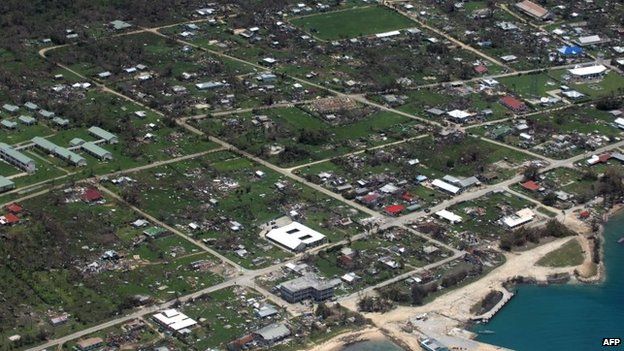 Homes have been flattened and trees uprooted in the South Pacific kingdom of Tonga after it was hit by one of the most powerful storms on record.
Cyclone Ian battered the central Ha'apai islands, home to 8,000 people, over the weekend, packing gusts of up to 287km/h (178mph).
It was a "miracle" only one 51-year-old woman lost her life, said emergencies director Leveni Aho.
Rebuilding could take years, said aid agency Oxfam.
"It's not only the people's houses that need to be rebuilt, it's also the infrastructure like the ferry terminal, the port, the roads. It's really badly damaged," Oxfam New Zealand executive director told Radio New Zealand.
Communications have been partially restored but there are concerns supplies of fresh water are running low.
Ian reached a category five cyclone - the strongest type - as it made landfall on Saturday, reportedly becoming the most powerful cyclone to hit on record.
New Zealand's government has offered assistance of NZ$50,000 (£26,000; $42,000) and an air force plane to assist with recovery, while several aid agencies are deploying to the region.