Japan former prime ministers unite over Tokyo race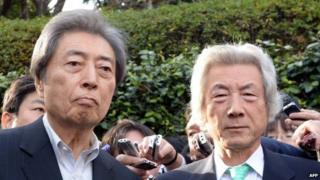 Former Japanese Prime Minister Junichiro Koizumi has endorsed Morihiro Hosokawa, another ex-PM, in the race for governor in the capital, Tokyo.
Mr Koizumi is supporting Mr Hosokawa's candidacy on an anti-nuclear platform.
Their stand puts them in opposition to the candidate supported by the party of current PM Shinzo Abe, which backs the restart of Japan's nuclear plants.
The former governor stepped down last month after admitting he had received money from a hospital chain.
Naoki Inose said he had resigned to avoid affecting preparations for the Tokyo 2020 Olympics.
"I have a sense of crisis myself that the country's various problems, especially nuclear power plants, are matters of survival for the country," Mr Hosokawa, 76, told reporters.
Mr Hosokawa was prime minister from 1993-94 after his coalition defeated the ruling Liberal Democratic Party (LDP).
For his part, Mr Koizumi said he would "work hard and actively" for Mr Hosokawa's election.
"The election will be a battle between a group of people who say Japan cannot advance without nuclear power plants and another group of people who say Japan can," he said.
Mr Koizumi was pro-nuclear for most of his term between 2001 and 2006. But he came out in public last year saying that he had changed his mind.
Health Minister Yoichi Masuzoe is standing as an independent candidate supported by Mr Abe's LDP.
Three years after the Fukushima nuclear disaster, the nuclear debate is suddenly back front and centre in Japanese politics, says the BBC's Rupert Wingfield-Hayes in Tokyo.
Four reactors at the Fukushima power plant were severely damaged by the earthquake and tsunami that struck in March 2011.
The power plant has suffered a number of setbacks last year, including a series of toxic water leaks and worker errors.