Does tiny kangaroo show Portuguese got to Australia first?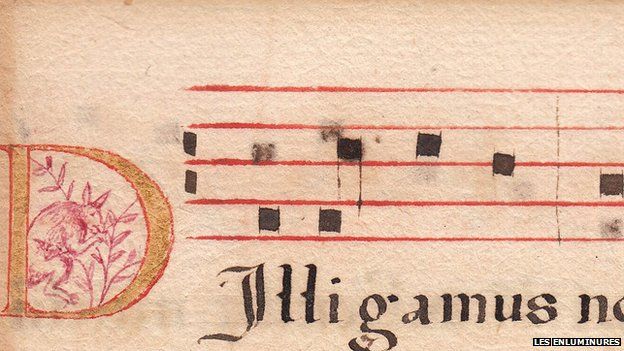 An illustrated manuscript offered for sale in New York may support the theory that Portuguese explorers reached Australia ahead of the Dutch.
The processional, containing texts and music for use in worship, was copied in Portugal between 1580 and 1620, and contains an image of an animal that looks like a kangaroo or wallaby.
The first Dutch ship is believed to have reached Australia in 1606.
But this drawing of a kangaroo - native only to Australia - may precede that.
It would suggest that images of Australian fauna were circulating in Portugal at the time of the book's production.
As well as the kangaroo, the book has small drawings of male figures who do not look European in their dress.
Processionals were used in the Middle Ages and later for liturgical observations, and were particularly important in monasteries and convents.
This manuscript was acquired by the gallery from a rare book dealer in Portugal and its date has been estimated from the script and illuminations.
The book has the name of a woman, Caterina de Carvalho - possibly a nun - engraved on the cover.
The gallery's owner, Dr Sandra Hindman, said illustrated manuscripts are of interest because they "provide us with such an engagingly personal window into history".
"Caterina de Carvalho... must have marvelled, as we continue to do so today, while gazing at the illuminated initials that bear witness to this incredible age of discovery and exploration," she added.
The Dutch voyage in 1606 has long been credited as the first European visit to Australia.
However some researchers believe that Portuguese vessels may have got there first.
Australian historian John Gascoigne told the Sydney Morning Herald that proving that the Portuguese were the first Europeans to arrive in Australia would be ''forever difficult to document because of their secrecy and because so many of the records were destroyed in the Lisbon earthquake of 1755''.
Related Internet Links
The BBC is not responsible for the content of external sites.