China microblogging site Weibo sees decline in users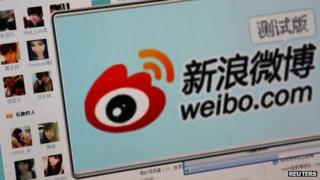 The number of online microblog users in China has declined steeply with almost 28 million people abandoning Sina Weibo in 2013, a government report says.
The fall marks the site's first drop in usage amid a government crackdown on so-called 'rumour mongers' online.
Web users are also believed to have migrated to mobile messaging platforms.
The China Internet Network Information Center said in its annual report there was an overall decline in the number of social media users.
It noted that while growth in Weibo dropped by 9 per cent in 2013, instant mobile messaging services experienced rapid growth, with apps such as WeChat registering more than 78.6 million users.
Twitter remains blocked in China and netizens have regularly tapped into Weibo's ability to share unfiltered information.
Weibo's surge in popularity gave users new opportunities for self-expression, but it also attracted the attention of authorities who moved swiftly to silence voices online.
A law was introduced to allow the Chinese government to jail microbloggers and dozens more were arrested.
The BBC's Celia Hatton in Beijing says that increased censorship and the arrests of several prominent Weibo users have led many ordinary users to abandon public forums like Weibo, in favour of more private forms of communication.
One Weibo user was not surprised at the decline. "It just isn't the same anymore, so I'm not surprised," said awxiang. "It is not safe anymore, so it is time for everyone to move say goodbye to Weibo."
Another microblogger smallspearv agreed: "It isn't worth it to put myself in danger, it just is not worth the risk."
Others like connielearnpa say that both Weibo and WeChat can both be used in different ways. "One is for personal means, while the other is more public."
Yuwen Wu from the BBC Chinese Service says there are several reasons behind Twitter's decline.
Restrictive Internet measures and censorship laws kicked in last year.
The arrest of prominent opinion formers such as Charles Xu on Weibo, also played a part in Weibo's decline.
In a year when the Bo Xilai trial and citizens' exposure of corrupt officials on social media became popular talking points, the new online measures made people think twice before they posted things.
This led to a popular commentator recently posting this plaintive question: "Why is Weibo so quiet these days?"