Japan protest over Korean assassin Ahn Jung-geun memorial in China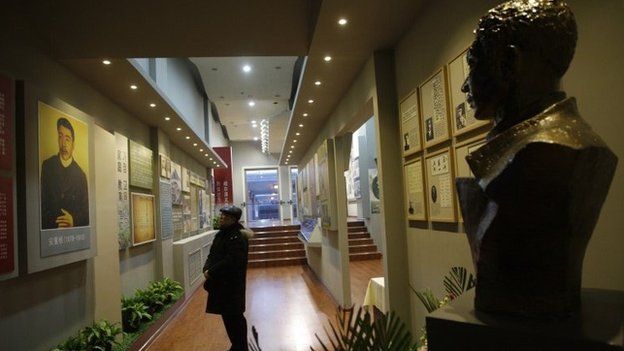 Japan has criticised a memorial built in China to commemorate a Korean independence activist who assassinated a prominent Japanese statesman in 1909.
Ahn Jung-geun shot dead Hirobumi Ito, four-time prime minister of Japan and the first resident governor of then Japanese-run Korea.
A Japanese government spokesman branded him a "terrorist" after the Chinese-Korean memorial hall opened in China's Harbin city, where Ito was shot.
He is celebrated as a hero in Korea.
"The co-ordinated move by China and South Korea based on a one-sided view [of history] is not conducive to building peace and stability," Yoshihide Suga told reporters.
But China said that Ahn was a "famous anti-Japanese high-minded person" and South Korea's foreign ministry said Ahn was a "widely respected figure", describing the assassination as a "courageous act", the AFP news agency reports.
All parties in the row have tried to adopt the mantle of diplomacy.
South Korea's foreign ministry said it hoped the museum would "set the path for genuine peace and co-operation based on correct historical awareness".
Mr Suga, on the other hand, said the "extremely regrettable" monument was "not contributing to building peace and cooperative relations in this region".
The Ahn memorial is just the latest act to lay bare the acrimonious legacy of Japan's occupations of China and the Korean peninsula, which took place in the first half of last century and resonate to this day.
He was hanged for killing Ito but decades later he was awarded a prestigious civil decoration in South Korea for his efforts for Korean independence and there are many memorials to him there.
The row comes after Shinzo Abe was condemned by China and South Korea for visiting the Yasukuni shrine that honours Japan's war dead, including some convicted war criminals.
Mr Abe insisted that he visited the shrine in a personal capacity and also to pledge that "never again will people suffer in war".
Nevertheless alarm has been growing in recent months over deteriorating relations between China, Japan and South Korea, who are also embroiled in a number of disputes over territory in the East China Sea.