Bomb targets bus of Shia pilgrims in south-west Pakistan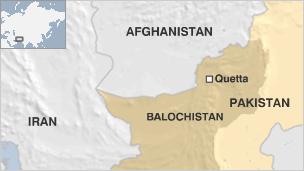 At least 22 Shia pilgrims have been killed after a bomb struck a bus in Mastung district in Pakistan's restive Balochistan province, officials said.
The pilgrims were returning from a trip to sacred sites in neighbouring Iran when explosives were detonated, causing one of a convoy of buses to catch fire.
More than two dozen people have been injured, some critically, a police officer told AP news agency.
Sunni Muslim militants who often target Shias operate in the region.
An extremist Sunni group, Lashkar-e-Jhangvi, has previously admitted carrying out similar attacks against Pakistan's Shia minority.
Balochistan ethnic nationalists are also waging an insurgency in the region for more autonomy.
President Mamnoon Hussain and Prime Minister Nawaz Sharif both released statements strongly condemning Tuesday evening's bombing.
Reports say the victims of the apparent attack - in Darin Garh, Mastung district - included women and children.
Emergency personnel rushed from the provincial capital, Quetta - about 60km (35 miles) to the north-east - to put out the flames and take the injured to hospital, reported Pakistan's Dawn newspaper.
"We have declared an emergency at hospital and doctors and paramedics are trying to save the wounded," local government official Shafqat Shahwani told AFP news agency.
It was not immediately clear what type of bomb was used or whether it was a suicide attack, provincial home secretary Asad Gilani said, according to AFP.
It is the second such attack in Balochistan this month. On New Year's Day, at least three people were killed when a suspected suicide bomber attacked a bus near the provincial capital, Quetta.
Pakistan's Express Tribune says that amid the increasing number of attacks on Shia pilgrims, security on the Quetta-Taftan highway has been beefed up and buses carrying Shia pilgrims have been escorted by security personnel.