Kimchi: South Korea's efforts to boost its national dish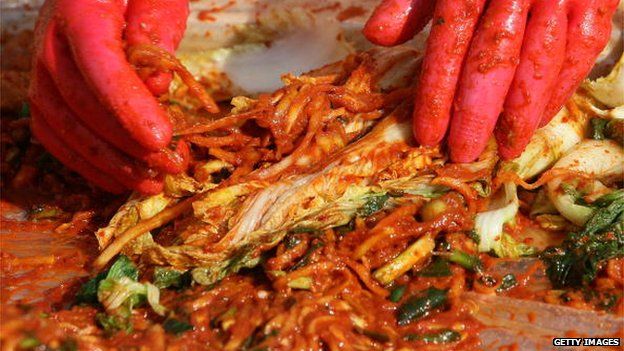 Korea's sour and spicy national dish, kimchi, has begun popping up in supermarkets and on restaurant menus in Europe and the US. Even America's First Lady Michelle Obama has shared her recipe. And the government is hoping it will spearhead a drive to promote Korean food overseas.
Standing in her well-equipped kimchi laboratory, her coral lipstick bright against her white lab coat, Kim Soon-ja directs a team of research assistants in their latest project. Giant flasks of pink and yellow kimchi stock tower over the work-table, as they test salt levels in a petri-dish of spicy gloop.
Mrs Kim is South Korea's kimchi Grand Master, and a secret weapon in expanding the appeal of the country's national dish.
"I started to experiment with kimchi recipes when I was a child," she said. "I couldn't imagine my life without it."
Few Koreans could. Kimchi, traditionally made with cabbage, is seen as synonymous with national culture, credited with fighting off infections, the respiratory illness SARS and even cancer.
The annual Korean ritual of making it has recently been listed as by the UN cultural organisation Unesco as an Intangible Cultural Heritage. Quite a lot for a humble dish of fermented vegetables.
"Kimchi is symbolic of Korea," said Dr Park Chae-lin of the World Kimchi Institute in Gwangju. "One can see it on every meal table throughout the day."
"And because [Koreans have] been exposed to it from such a young age, there's a feeling of nostalgia for it when they get older: the flavour of their mother's kimchi. It's part of the identity of Koreans."
So why is Mrs Kim tinkering around with a national icon?
The answer lies many thousands of miles away - in the factories of China and the restaurants of the West.
Kimchi has already started to appear on upscale London menus. New pop-up snack stalls are offering kimchi-topped burgers or Korean-flavoured tacos to the city's cosmopolitan lunchtime crowd.
This new visibility is partly the result of South Korea's growing cultural prominence, and partly the fruit of a long-running government campaign to promote Korean food overseas.
"Ever since Korea hosted the Olympics in 1988," says Dr Park, "there was a strong drive to introduce kimchi to the world, as a food that represented Korea."
"But there was also a hesitation back then; a lack of confidence about whether people would really like it, or would be put off by the garlic smell."
Kimchi is traditionally made by adding a paste of chilli, garlic and fish sauce to salted cabbage, and allowing it to ferment - sometimes for several months, or even years. It has a distinctive sharp-sour smell and a robust, spicy flavour, which varies between each batch, and each family recipe.
Korea may be more confident now, but the old recipes, says Mrs Kim, are still considered too spicy and too "aromatic" for modern global tastes.
"Foreigners don't like it too spicy. Even Korean children don't like it too strong these days."
"These pink and yellow liquids are my new patented kimchi mixtures," she said. "They're less spicy, less salty and they have no smell at all."
This year, the government is due to invest almost $9m (£5.5m) in R&D into Korean traditional foods, with kimchi at the forefront of that campaign.
There is another $34 million (£21m) available for improving manufacturing facilities. But then there are strong reasons, aside from cultural diplomacy, why the government might be keen to promote its national icon overseas.
For all South Korea's pride in kimchi, its trade statistics reveal a different story: that South Korea is a net importer of its national dish.
In 2012, the country imported almost eight times the amount of kimchi it exported, with most of those imports coming from China.
Kimchi produced there is cheaper, but few Koreans know they're eating it, because Chinese-made kimchi doesn't appear on supermarket shelves here: sales staff say that customers would not buy it.
Instead, it ends up in the catering industry, where it's hidden from view.
Worried by China's growing role as a kimchi producer, the South Korean government is planning to tighten rules on restaurants this year, insisting they list the origin of their ingredients prominently for customers to see.
"We need to raise awareness of the true value of Korean national kimchi" said Lee Yong-jik, deputy director at the Ministry of Agriculture's kimchi department.
Many Koreans, like him, insist that national geography is crucial to kimchi's alleged anti-bacterial properties.
"The ingredients are really important," Mrs Kim explained in her kimchi lab, "not to mention the water, the temperature and also the humidity."
"It's Korea where those elements exist, so the kimchi made in Korea is full of very healthy enzymes. In China, the ingredients are different, and the environment is different as well, so you don't get the same enzymes. Korean kimchi and Chinese kimchi are two totally different things."
Perhaps the ultimate irony in all this is that, as government investment and global interest in their national dish grows, Koreans themselves are eating less of it.
"Domestic consumption has dropped dramatically," says Dr Park of the World Kimchi Institute.
"People rarely have all three meals at home these days, they're trying to eat less salty foods, and there's more choice available. Western foods are becoming much more common, even at home, and people don't tend to eat kimchi with spaghetti."
The government has noticed the trend too - and wants to reverse it.
"We're trying to educate people," said Mr Lee of the Agriculture Ministry. "To get them accustomed to Korean food, starting from childhood; hold training courses, and make it fun for families."
With increasing competition from overseas producers, and declining consumption at home, kimchi, as one prominent politician put it, "is going through an ordeal as harsh as a Korean winter".
But its place on Western menus also offers South Korea the chance to reinvent its iconic, home-spun dish. Mrs Kim's formula for foreigners may end up working quite well at home.