Tokyo governor poll campaign begins amid nuclear debate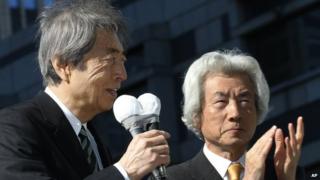 Campaigning has begun in the race for Tokyo governor, in an election that has turned into a near-referendum on Japan's use of nuclear power.
Former Prime Minister Morihiro Hosokawa is running on an anti-nuclear platform in the 9 February vote.
He has been endorsed by another former leader, the popular Junichiro Koizumi.
Their stand puts them in opposition to the candidate supported by the party of current PM Shinzo Abe, which backs the restart of Japan's nuclear plants.
The previous governor, Naoki Inose, stepped down in December over a financial scandal.
'Broken myth'
Mr Hosokawa, 76, formally announced his candidacy on Wednesday.
"I foolishly once believed the myth that nuclear energy is clean and safe," he said. "That myth has completely broken down."
"We need to turn around by 180 degrees the current energy-guzzling society dependent on nuclear power."
His main contender is former Health Minister Yoichi Masuzoe, 65, who is backed by the ruling LDP.
Mr Masuzoe says his priority is to make the 2020 Tokyo Olympics a success. On the nuclear issue, he wants to reduce the ratio of nuclear power in Japan's energy mix.
Mr Abe's government backs the restart of Japan's nuclear reactors.
Before the March 2011 earthquake and tsunami, which led to the meltdowns at the Fukushima Daiichi nuclear power plant, Japan relied on nuclear power for about a third of its energy.
Now, however, all of its reactors are currently offline - leaving Japan, which has no fossil fuel resources, struggling to meet its energy needs.
But public sentiment remains heavily tipped against nuclear power in the wake of the 2011 disaster.
A Hosokawa win would be seen as a blow to Mr Abe's restart plans, even though the Tokyo governor's office has no formal role in nuclear policy.