Australia names Peter Cosgrove as new governor-general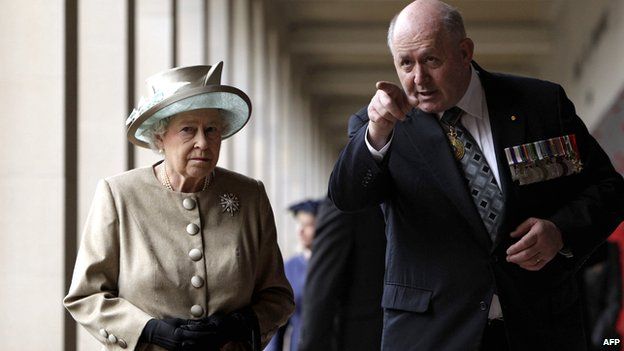 Retired defence chief Peter Cosgrove has been nominated as Australia's next governor-general by Prime Minister Tony Abbott.
The ceremonial role, as representative of Queen Elizabeth II, involves opening parliament, giving assent to laws and receiving official visitors.
Mr Cosgrove will become the 26th governor-general of Australia.
He had been viewed as a front-runner to succeed incumbent Quentin Bryce, who ends her term in March.
The governor-general is appointed by the Queen on advice of Australia's prime minister.
The country is a parliamentary democracy that retains Britain's monarch as its head of state.
Gen Cosgrove said he would approach the job with "all the energy I've got, good humour and with an unfailing optimism that this is a great nation which will only get better".
Gen Cosgrove is known for his role commanding international peacekeeping forces in East Timor in 1999. He was named Australian of the Year in 2001.
He served as chief of the defence force from 2002 until 2005.
Mr Abbott also praised Ms Bryce for her work. Australia's first female governor-general, she was nominated by former Prime Minister Kevin Rudd, under the previous government.
"I salute the work that she has done," Mr Abbott said, adding that she had "discharged her duties for almost five years now with grace and distinction".
Australians voted against becoming a republic in a 1999 referendum.
In November, Ms Bryce publically expressed her support for Australia becoming a republic, becoming the first sitting governor-general to do so.
Mr Abbott is a staunch royalist and used to be the executive director of the Australians for Constitutional Monarchy.