Philippine police condemned over 'torture wheel'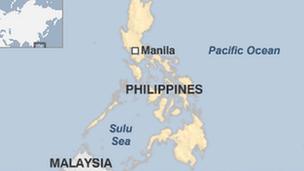 Human rights groups have criticised police in the Philippines for the alleged use of a 'torture wheel' at a detention facility.
Police reportedly spun the wheel to select abuse for detainees. Punishments included "bat position", where people were hung upside down for 30 seconds.
Amnesty International said police in Laguna province, near Manila, abused the detainees "for fun".
Several police officers are now under investigation, local reports say.
The news emerged after suspects accused of drug-related crimes had complained about injuries they sustained while in custody at the unlisted detention facility, local media report.
The detainees, who had bruises and wounds on various parts of their body, said police tortured them so they would reveal drug sources.
The Philippine Commission on Human Rights (CHR) discovered the torture wheel during a visit to the facility, it added.
The coloured wheel listed positions or consequences for detainees. This included a "20-second Manny Pacquiao", a reference to the popular Filipino boxer, where the detainee would be continuously punched for 20 seconds.
Loretta Ann Rosales, CHR chairwoman, described the detention facility as "horrible".
"We're trying to correct this mindset based on a human rights approach to policing, but obviously it may take a lot of time,'' she told the Associated Press (AP) news agency.
Police official Senior Superintendent Reuben Theodore Sindac told AP that several police were now in custody and under investigation over the matter.
Related Internet Links
The BBC is not responsible for the content of external sites.