Thai government vows to proceed with elections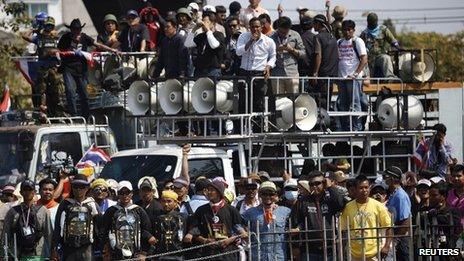 Thailand's government has announced parliamentary elections on Sunday will go ahead despite threats of protests and an opposition boycott.
It follows talks between Prime Minister Yingluck Shinawatra and election officials seeking to delay the vote.
Shots were reportedly fired in a part of the army complex in Bangkok where the meeting took place.
Anti-government activists want Ms Shinawatra to step down and the political system to be reformed.
"We have to go forward with the election," Deputy Prime Minister Pongthep Thepkanchana told reporters on Tuesday.
"The Election Commission will organise the election under the framework of the constitution and try to avoid any violence," he added.
Anti-government protesters, who have rejected the election, obstructed large numbers of polling stations last weekend, preventing early voting from taking place.
The main opposition Democrat Party has said it will boycott the polls.
An anti-government rally leader, Suthin Taratin, was shot dead in a clash with government supporters in eastern Bangkok on Sunday.
The Election Commission had been pressing for a delay of up to four months amid concerns of further violence and disruption to the vote.
It cited a long list of problems caused by the sustained protests, including constituencies where no candidates could register and violence at polling stations.
But the government argued that delaying the election could cause more difficulties with no guarantees the protesters and opposition Democrats would eventually abandon their boycott.
Behind this manoeuvring is a raw power struggle between the governing party, and the groups now allied with the protesters and Thailand's royalist establishment, says the BBC's Jonathan Head in Bangkok.
Each side fears the other will monopolise control of the state and marginalise its opponents, he adds.
In the latest incident, two people were injured when shots were fired as a group of anti-government protesters gathered near the army complex where Tuesday's meeting took place.
Ten people have been killed in the political turmoil which has shaken Thailand for the past three months.
A state of emergency is in place as the authorities struggle to cope with the unrest.
The protesters, led by former Deputy Prime Minister Suthep Thaugsuban, say Ms Shinawatra's government is being influenced by her brother, exiled former leader Thaksin Shinawatra.
They want to install an unelected "people's council" to run the country until the political system is changed.