Afghan election workers for Abdullah Abdullah shot dead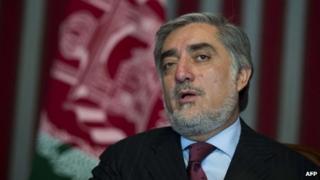 Two Afghan election campaigners working for presidential candidate Abdullah Abdullah have been shot dead in the western city of Herat.
The shootings took place the day before campaigning officially starts for the 5 April vote.
Local TV reports said gunmen attacked the two as they left a campaign office.
Abdullah Abdullah was the runner-up in the disputed election of 2009 to President Karzai, who cannot stand this time.
Mr Abdullah pulled out of the second round of the 2009 election because he said he feared the vote would be rigged.
His spokesman, Sayed Fazel Sangcharaki, confirmed the deaths of the campaign workers on Saturday.
"This incident at the beginning of election campaign is a bad sign as either the security forces are incapable of providing security for the election campaign or they do not take their job seriously," he said.
Analysts say Mr Abdullah is the only presidential candidate to publicly endorse a security deal with the US that would see thousands of foreign troops remain in Afghanistan after 2014.
American combat soldiers are due to pull out of Afghanistan by the end of the year, but under the deal thousands would stay on to train and mentor local security forces.
Correspondents say Afghanistan's security is likely to be severely tested during the election, where candidates include warlords and former guerrilla leaders from the 1990s civil war.