Cambodia's Phnom Penh tests public bus system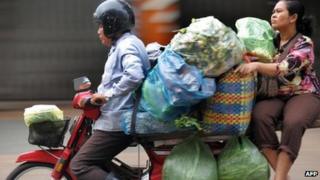 Cambodia has started a trial run of a public bus system in the capital for the first time in over a decade in a bid to reduce traffic jams.
The trial in Phnom Penh has 10 buses operating on a single route across the city centre for one month.
The city tried to introduce public buses in 2001, but the service was scrapped after a few weeks because of a lack of public interest.
People have been using motorbike taxis, locally known as moto-dup.
Officials say there are more than a million motorbikes in the capital, in addition to more than 30,000 cars on the streets.
"Public buses can help reduce the traffic jams,'' senior City Hall official Koeut Chhe told the Associated Press news agency.
"We want to change the attitude of Cambodian people and convince people to use public transportation."
The air-conditioned buses will make 36 stops in the city. A bus ticket costs 1,500 riels (35 cents, 23 pence).
"I think the price is suitable for students and also ordinary people, and using this bus service reduces a lot of traffic jams," student Long Sipheng told Reuters news agency.
The bus programme is funded by a Japanese government agency, as was the 2001 trial.