Afghan notebook: Struggling restaurants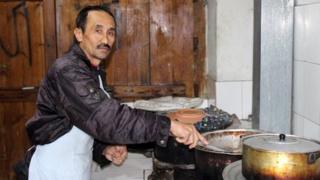 Ibrahim is a cook with 15 years' experience of preparing foods from all over the world - be it pizza or curries - all part of Kabul's vibrant culinary offer.
He works in one of several outlets I visited, where business has declined since the Taliban attacked the popular Taverna du Liban on January 18, killing 21 people.
The father of six wakes up early every morning to ride his bicycle from the suburbs to the well known "Sufi" restaurant in downtown Kabul.
There he works all day in the hot, small kitchen until the last customer leaves, often around midnight.
But his routine has changed. He says he is more alert as he cycles to work and when he moves about in the restaurant.
"I know if the time has come to die, you will die any way and anywhere," Ibrahim says, as he checks on a pot of Qabli, an Afghan rice dish made with raisins, carrots and pistachios.
"But I do take care of myself."
Ibrahim watched the reports of the Taverna attack on television. "Nowhere is safe in Kabul," he concludes.
His family lives in Ghazni province, south of Kabul where his 18-year-old son goes to school. Ibrahim thinks they are safer there than in the capital, even though Ghazni itself is regarded as insecure.
Mr Ibrahim says that before the attack he usually called his family once a day. "On the night of the [Taverna] attack I talked with my family over the phone and since then we talk more often."
Safe rooms for guests
Things have also changed for the Sufi restaurant's manager, Mohammad Azim Popal.
He is planning to install a reinforced metal gate, strong enough to resist explosions as well as a safe room for guests and staff in case the worst happens.
He says that on the day after the attack, a number of Afghan police and intelligence officials paid a visit, telling him he had to "guarantee the life of customers in such incidents."
Mr Popal told them: "If the government can't guarantee the life of people, how could he do so?"
Later in the day I arranged an interview with the manager of the Namastee restaurant, a highly secure Indian restaurant in the city.
But when I got there with my equipment, security guards stopped me at the entrance and I was told I could not film for security reasons.
The manager explained it could become an easy target for the Taliban. It is in a diplomatic area and has no name board.
Closing down
Flower Street Café does advertise its presence in one of the city's most famous streets. But when I visited I came face-to-face with piles of sand bags securing the entrance.
Here too, the manager has ordered a safe room and an emergency exit to conform with the security requirements of the UN and other international organizations.
But the owner of the Khayam restaurant is thinking of closing it down.
Karim, its manager, says he invested all of his savings of almost $50,000 (£29,950) into the place.
"My business was doing well during the past weeks and I was hopeful," he told me as we were sitting in his empty restaurant: "Now look around. Nobody comes, and I'm still paying for rent, electricity, staff and security."
He has dismissed all his waiters until the further notice.