North Korea issues warning over South reunions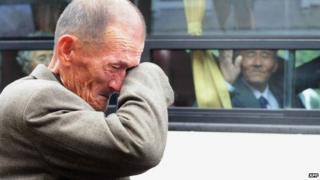 North Korea has threatened to cancel family reunions with the South, a day after agreeing to hold them.
Its top military body said in a statement that it would reconsider the deal if joint US-South Korea military exercises went ahead.
"Dialogue and exercises of war" could not go hand in hand, South Korea's Yonhap news agency quoted the North Korean statement as saying.
The two Koreas last held reunions for divided families in 2010.
The next reunions - for family members separated when the Korean peninsula was partitioned at the end of the 1950-53 Korean War - are scheduled for 20 February.
In the past North Korea has cancelled reunions after the South took actions it opposed.
It has been accused of using the reunions, which are highly emotional events, as a bargaining chip.
'Proceed as normal'
"As we were reaching an agreement on the separated families, B-52 bombers were engaging in nuclear strike drills against us above Korea's western sea," the statement from North Korea's National Defence Commission said.
"As long as [South Korea] hurts our dignity and slanders our regime, we can't help but reconsider fulfilling the agreement," the statement added.
Seoul's Defence Ministry refused to comment on the activities of American assets, the BBC's Lucy Williamson in Seoul reports.
But South Korea's main news agency said the drill had involved one B-52 aircraft training along the country's south-western coastline, our correspondent adds.
Major US and South Korea military drills, which are held every year around this time, are due to begin later this month. The exercises anger Pyongyang, which views them as aggressive.
Last year, the exercises led to a prolonged surge in tensions, with North Korea threatening pre-emptive nuclear strikes and cutting a military hotline with the South.
A South Korean Defence Ministry spokesman said on Thursday that the joint drills would go ahead.
"We will proceed with our drills normally, regardless of the reunions for separated families," said ministry spokesman Kim Min-seok.
It is estimated that there are about 72,000 South Koreans - nearly half of them aged over 80 - on the waiting list for a chance to join the family reunion events.
Millions were separated from their families by the division of the Korean peninsula after the 1950-1953 war.
The programme was suspended after the North's shelling of a South Korean border island in November 2010.