Afghan notebook: A last bar of Russian chocolate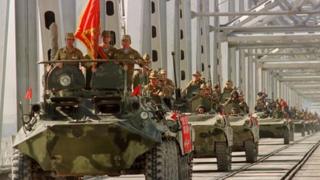 For Afghans in the northern town of Hairaton, the withdrawal of international forces in 2014 is bringing back memories of the Soviets pulling out exactly 25 years ago.
On 15 February 1989, teenager Mohsen Saberi went with his father to watch the last Russian tanks roll across the Hairaton bridge out of Afghanistan.
"People were standing by the side of the road waving goodbye," he remembers. "One of the soldiers was throwing chocolate to the crowd. It was my last ever bar of Russian chocolate."
Mohsen's father didn't want the Russians to go and predicted there would be trouble ahead.
Now aged 40 with a 17-year old son of his own, Mohsen is facing similar concerns.
He says almost all his colleagues in the Hairaton Customs Service are worried the Nato pull-out this year will have a negative impact on security and the local economy.
"I really hope my son won't look back in 25 years and feel sorry that it happened," he says.
Noor Zia's sons are also worried.
They've seen friends lose lucrative jobs with departing foreign forces, and now want their parents to leave.
"We keep telling them everything will be fine," says the 58-year-old grandmother.
Noor and her husband were also on the bridge in 1989.
They lost their home in the upheaval that followed, but this time they're convinced things will be different.
"The international community isn't done with Afghanistan," she says. "Their support will continue even after the troops leave. Terrorism is something which will keep them interested in our country."
High stakes
For local people here there's clearly a lot at stake.
Hairaton has done well in the past decade.
In a prime location - on the banks of the River Amu, and connected by a road and rail bridge to neighbouring Uzbekistan - the town has become a major trade and transport hub.
Almost half of Afghanistan's exports now go via this route.
In the coming months. some Nato convoys will also be heading home this way.
Officer Faridoon Aghar of the Hairaton border police will be keeping a watchful eye on them.
For him, their departure raises concerns about funding.
"We're so dependent on the foreign forces for resources," he says. "I wonder how we in the police will manage once they're gone."
All Afghan police salaries are currently being paid for by donor nations, and with the US Congress approving drastic cuts to its aid budget post-2014, he may well be right to be worried.
But for now Faridoon is staying upbeat. He says the key difference between the Soviet and US interventions is that the US presence in his country has been "legitimate".
"This time round I'll be watching with very different emotions," he says." I'll be looking forward to whatever the future holds."