Peshawar cinema hit by deadly Pakistan blasts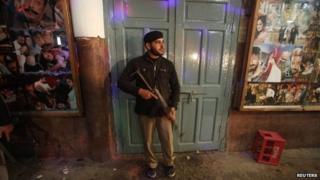 At least 10 people have been killed and many injured in a suspected grenade attack at a cinema in Peshawar in north-west Pakistan, officials say.
No group has said it carried out the attack, but cinema owners say they had received warnings from militants to shut down their businesses.
It comes almost two weeks after explosions at another cinema in the city killed five people.
Peshawar has suffered numerous bomb and gun attacks over the years.
The attack took place at about 15:40 local time (10:40 GMT) while a film was showing inside the cinema. One report suggests that up to 80 people were inside the hall when three grenades were hurled at the patrons.
In the last 48 hours the city of Peshawar and surrounding areas, bordering Pakistan's restive tribal belt, have been hit by several small but deadly bomb attacks.
Much of the violence to have hit Peshawar in recent years has come at the hand of Taliban militants.
Taliban and government representatives are currently engaged in preliminary peace efforts aimed at charting a "roadmap" for negotiations.
One of the five conditions set by the government before talks can begin in earnest is a cessation of hostilities.