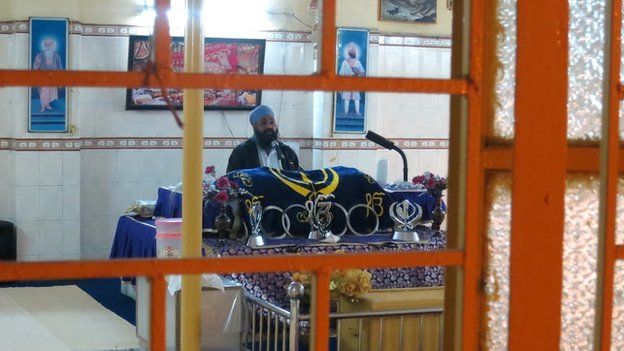 Santok Singh's melancholy tones hang in the air as he reads from the Granth, the Sikh holy book.
But his gurdwara or temple is empty, even though his evening prayer session in the Delhi suburb of Trilokpuri is well underway.
It's been like this every night for years, he says, a symbol of a once thriving Sikh neighbourhood decimated by the scourge of sudden communal violence, which plagues India to this day.
The narrow lanes of Trilokpuri saw the worst bloodshed during the anti-Sikh riots that swept the capital in November 1984 sparked by the assassination of Prime Minister Indira Gandhi by two of her Sikh bodyguards.
Today, Singh's gurdwara is known as the Temple of Martyrs.
At least 3,000 Sikhs were killed in Delhi, and members of the ruling Congress party were widely accused of encouraging the violence.
The spectre of 1984 is all the greater because no-one of any significance has been brought to justice.
The issue is back on the agenda again as India approaches general elections this spring, with many Sikhs saying they intend to vote for the country's newest political movement - the Aam Admi party - because it has promised a renewed investigation into the massacre.
"People thought they'd be safe inside the gurdwara" says Santok Singh. The temple is between blocks 30 and 32 in Trilokpuri, the epicentre of the violence.
"But the wall wasn't very high then and the mob came from all sides.
"They killed anyone they could lay their hands on - men, women and children. This courtyard was full of bodies."
Delhi police were accused not just of failing to stop the violence but aiding it.
Electoral records were reportedly used in some cases to identify where Sikh families lived.
When the Indian army finally restored order four days later, at least 400 Sikhs lay dead in Trilokpuri, with hundreds more injured.
The November 1984 riots were the nadir of a cycle of violence that had seen Sikh separatists occupying the Golden Temple in Amritsar, followed by Mrs Gandhi ordering the disastrous Operation Bluestar attack on the complex leaving hundreds dead.
A British special forces officer advised the Indian government in the early planning stages, it has recently emerged.
It was the assault on the Golden Temple that provoked Mrs Gandhi's Sikh bodyguards to turn on her on 31 October 1984.
What used to be one of Delhi's biggest Sikh neighbourhoods emptied out. Today there's only a handful of Sikh families left - with Santok Singh's children helping him in his lonely task of keeping the gurdwara going.
They seem almost grateful to have visitors to offer sweets to when the prayer session is over.
Tens of thousands of Sikhs became refugees in their own city and many ended up in the run-down district of Tilak Nagar, on the far western side of Delhi.
Like dense tree creepers, multiple illegal electrical connections lead from the lamp-posts to the crumbling apartment block where Attar Kaur has lived with many other Trilokpuri Sikhs since 1984.
Inside, a fading photograph of her and her husband looks down from a bare plaster wall.
"We were sad when we first heard of Indira Gandhi's death" she says. "But how could I imagine she would also take my husband with her?"
In all, she lost 11 close relatives in Trilokpuri, including her brother and three nephews.
"A Muslim neighbour gave me and my children shelter," Mrs Kaur remembers.
"He said the mob won't touch children, but when we finally went out we saw dead Sikh children everywhere, still burning like wood."
Her description is a chilling echo of the words that have come to define what's often called a pogrom.
"When a great tree falls, the earth is bound to shake."
So Rajiv Gandhi is reported to have responded as violence took hold after his mother's death and accounts began to emerge of Congress party members leading the mobs.
The most prominent figure facing such accusations is Jagdish Tytler, a former Delhi MP and minister.
Black and white photographs around his living room show him as one of the Gandhi family's most loyal and trusted confidants.
One shows him chatting amiably in a group that includes Indira Gandhi just days before her death, alongside a younger Sonia Gandhi and her son Rahul - the leaders of today's Congress party.
Mr Tytler denies any role in the 1984 riots and told the BBC he was actually with Indira Gandhi's body in mourning at the key time when he's accused of instigating violence. Sikh activists, he said, had framed him.
"They created such an impression that one day my daughter asked me 'Papa, have you killed Sikhs'," he told the BBC.
"Can you imagine how shamed we felt that if my own daughter can think like this?"
In March 2009, India's Central Bureau of Investigation (CBI) gave him a so-called 'clean chit', clearing him of any wrongdoing.
But just weeks later, after an ensuing outcry, his own party dropped him and another key figure as candidates for the general elections that year.
That was a small victory for Harvinder Singh Phoolka, the Sikh lawyer who has spearheaded efforts to bring the ringleaders of 1984 to justice. But he says the string of inquiries and commissions since then have been "a farce".
"Whenever any victim named a Congress leader, or a police officer, they didn't register the case" he says. "If they did register the case, they would make them delete that name."
The issue has also become highly politicised, with 1984 one front in a macabre battle with the opposition Bharatiya Janata Party (BJP) over whose riot was worse.
Despite also receiving a 'clean chit', the BJP's leader Narendra Modi - and frontrunner to be India's next PM - still faces questions over his role in the 2002 riots in his home state of Gujarat, in which at least 1,000 people died, most of them Muslims.
It has led to a kind of stalemate, with neither side keen to push too hard in case more skeletons fall from their own closets.
But, says Mr Phoolka, "no large-scale violence happens in India without the patronage of people in power".
In her cramped flat, Attar Kaur says she's thinking of voting for Arvind Kejriwal, leader of the new anti-corruption Aam Admi party (AAP) that swept to power after last year's Delhi local elections, because of his demand for a new inquiry into 1984.
Whether Mr Kejriwal will keep pressing for this now he's resigned as Delhi's chief minister is not clear. But "he has given us hope," says Mrs Kaur.
Until there is accountability, communal violence will continue, warns HS Phoolka - who has recently announced he is standing as an AAP candidate.
"If the guilty of 1984 had been punished, we wouldn't have seen the riots in Mumbai in 1993 and the riots in Gujarat in 2002. Be prepared for it to keep happening."
At least 50 people died and thousands were made homeless last December, after another eruption of communal violence just a few hours drive from Delhi in the town of Muzaffarnagar.