North Korea detains Australian missionary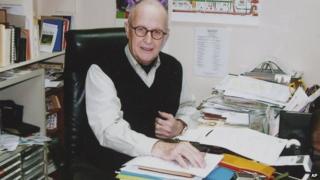 North Korea has detained an Australian missionary, his wife has said.
John Short, 75, was detained in Pyongyang after apparently leaving Christian pamphlets at a tourist site.
His wife, Karen, told journalists in Hong Kong that he had been open about his work and was carrying religious material translated into Korean.
Australia has no representation in North Korea, but a spokesman from the Seoul embassy said he was seeking more information about his case.
"We are in close contact with Swedish officials in Pyongyang to seek their assistance in confirming the wellbeing of Mr Short," the spokesman said.
The Shorts have been living in Hong Kong, where Mr Short owns a Christian publishing house.
"He was carrying Korean literature on his person and that could be the reason, but again I don't know," said his wife.
She said it was her husband's second trip to North Korea and he knew it was not a tourist destination, but he "cares about the people and he wants to help".
Chinese Christian Wang Chong, who was on the tour with Mr Short, told Australia's ABC News that they were taken to a Buddhist temple on the second day of their tour.
He said the temple was damaged and a Buddhist statue had been destroyed before they reach the site.
"[John Short] didn't feel comfortable in his heart, and he left a pamphlet there relating to the gospel," said Mr Wang.
Religious activity is restricted inside North Korea and the authorities have arrested missionaries on multiple occasions in the past.
A long-awaited United Nations report released on Monday cited "an almost complete denial of the right of freedom of thought, conscience and religion" in North Korea.
Korean-American Kenneth Bae is currently serving a 15-year sentence in North Korea after being convicted of Christian proselytising.
Efforts from Washington to secure Mr Bae's release have so far been unsuccessful.