Pakistan bombs militant hideouts in tribal areas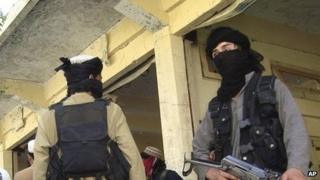 Pakistani fighter jets have launched air strikes on suspected militant hideouts in the north-west, killing at least 15 people, local officials say.
Raids focused on Mir Ali town and surrounding areas of North Waziristan, but military sources said strikes were also carried out in the Khyber area.
Peace talks between Pakistani government negotiators and Taliban militants broke down earlier this week.
On Sunday a Taliban-linked group said they killed 23 paramilitary soldiers.
Those killings and other violence in the past week caused the suspension of the talks, and triggered Thursday's raids.
"Air strikes were carried out to target militant hideouts with precision. A huge cache of arms and ammunition have also been destroyed," said a Pakistani official, according to Agence-France Presse news agency.
Other reports quoted intelligence officials as saying that foreign fighters were among those killed in the North Waziristan air raids.
Khyber raid
Military sources later told the BBC that the overnight air strikes had been extended to the Bara region of Khyber district, the BBC's M Ilyas Khan in Islamabad reports.
There is no Taliban reaction yet, and no independent confirmation.
Casualty figures from the Khyber strikes are not yet known.
The source said that the air strikes targeted hideouts of militants who were allegedly involved in the grenade attacks at a Peshawar cinema house on 13 February, and the 18 February killing of a Pakistani army officer.
Militants based in the Mohmand tribal area said on Sunday that they killed the 23 soldiers, who had been abducted and held since 2010.
Pakistani Prime Minister Nawaz Sharif condemned the reported deaths and said these would have a negative impact on current peace talks with the Taliban.
Government negotiators called off a meeting scheduled for Monday following the reported killings.
Pakistani jets also carried out strikes on militant hideouts in North Waziristan last month, following a wave of attacks against security forces.